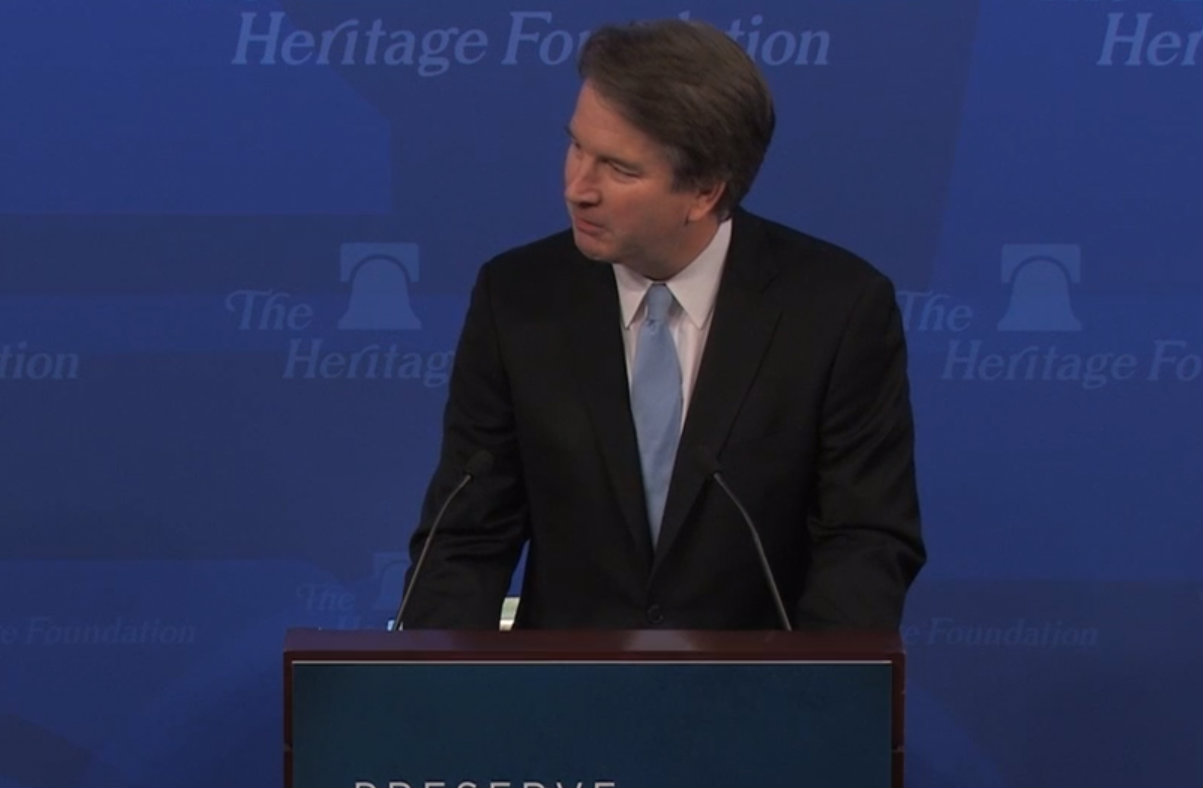 President Donald Trump said he would announce a replacement for retiring Supreme Court Justice Anthony Kennedy on Monday, and it seems like there is a frontrunner. Brett Kavanaugh, a judge on the U.S. Court of Appeals for the District of Columbia Circuit, is the leading frontrunner, said a recent New York Times article.
The other judge in serious contention, the Seventh Circuit's Amy Coney Barrett, is a favorite of social conservatives, but according to a person close to the president, Trump thinks Kavanaugh has served long enough as a judge to give a sense of his position on issues. Barrett, who only became a judge in November 2017, could use more experience on the bench, and the administration might save her for the event that 85-year-old Justice Ruth Bader Ginsburg leaves the court.
Kavanaugh certainly has a history. He was confirmed to the D.C. Circuit under President George W. Bush in 2006. His road to the court was marked by time in Kenneth Starr's independent counsel office–he played a leading role in drafting the report calling for the impeachment of President Bill Clinton–and later joined the Bush White House as a staff secretary.
As the Times article notes however, his Republican critics might consider him insufficiently hardline on certain issues. A confirmed Barrett could reliably lead to conservative decisions on divisive topics.
"Her judicial philosophy is well known from her many academic writings, so she would not be a dreaded stealth nominee who would provoke conservative opposition," stated a letter to Trump from leaders of the socially conservative American Family Association, American Principles Projection, and the Judicial Action Group. "If the present Senate is unwilling to confirm the best nominee, then the seat can remain vacant during the election, and the people will elect a Senate who will confirm the best nominee. It is better to have a vacancy until next year than to fill the seat with a weak nominee who will betray your legacy and the constitution for the next forty years."
The Judicial Action Group wrote a report on both judges, and found that Kavanaugh's dissent to be lukewarm in a case involving a pregnant undocumented immigrant teen who sought an abortion on U.S. soil.
"Despite Kavanaugh's dissenting vote there are two concerns with his role in this case," they wrote. "First, although he dissented, Kavanaugh went too far in claiming '[i]n sum, under the Government's arguments in this case and the Supreme Court's precedents, the unlawful immigrant minor is assumed to have a right under precedent to an abortion.'"
[Screengrab via Heritage Foundation]
Have a tip we should know? [email protected]