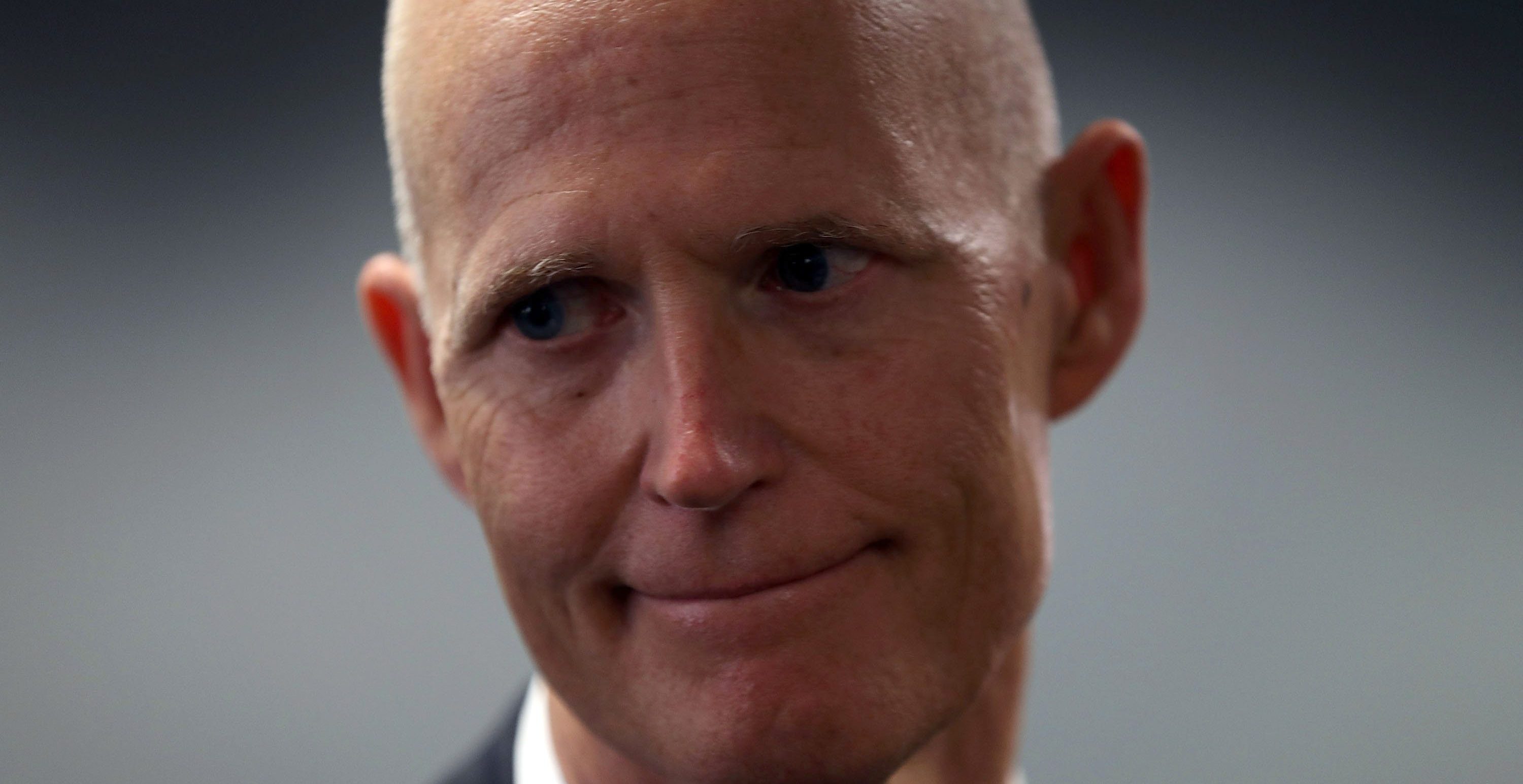 The largest private prison company in America may have made an illegal contribution to a Super PAC supporting Florida Republican Senate candidate Rick Scott, according to a report by non-partisan campaign finance watchdog MapLight.
In April, a subsidiary of GEO Group donated $125,000 to the New Republican PAC. While technically not part of the Scott campaign, this Super PAC has dedicated itself to weighing in on the November contest between the Sunshine State's GOP Governor Scott and its Democratic Senator Bill Nelson. So far, the New Republican PAC's interventions have been explicitly pro-Scott and explicitly anti-Nelson. Don't expect that perspective to change.
GEO Group is the country's largest private prison contractor. The specific pro-Scott contribution was made by GEO Acquisition II, Inc., a wholly owned subsidiary of GEO Group. According to public records, GEO Acquisition II and GEO Group share a mailing address. They also share the same five directors and officers. Furthermore, a document filed by GEO Acquisition II with the Securities and Exchange Commission reveals that the company also owns the real estate where five federally contracted GEO Group facilities operate.
Federal law prohibits current and potential federal contractors from making any "contribution to any political party, committee, or candidate for public office," during any time period when those contractors are still bidding for public contracts. GEO Group consistently lobbies the Florida legislature for such contracts–their efforts toward obtaining them are ongoing and show no signs of ceasing.
The $125,000 donation, therefore, appears to be an attempt by GEO Group to skirt campaign finance laws by funneling the funds through an entity which would seemingly be exempt from federal laws on extremely thin and technical grounds.
Campaign finance experts have cried foul about this alleged use of corporate personhood to evade campaign finance laws.
"A contractor can't dodge the ban by making a contribution through a wholly owned subsidiary," Campaign Legal Center's Brendan Fischer told MapLight, who published the report in partnership with the Florida Center for Investigative Reporting.
Craig Holman, government affairs lobbyist for Public Citizen also weighed in. He said:
In my book, this is a violation of the pay-to-play law. You can't let subsidiaries get around what is illegal for the parent corporation to do. Otherwise you just essentially throw the law out.
Fischer's organization is no stranger to these sorts of evasive tactics. In January, CLC sued the Trump administration for failing to enforce the federal contractor ban against GEO Group over an allegedly unlawful $225,000 donation to a pro-Trump Super PAC.
Adav Noti, senior director of trial litigation at CLC, and the FEC's former associate general counsel for policy, said, at the time, "The contractor ban is essential to prevent companies from using campaign contributions to buy government contracts, and that ban must be enforced. This is why we need an effective FEC. If the agency sits on its hands, the law is not worth the paper it is printed on."
Law&Crime reached out to GEO Group's public relations department for comment on this story, but no response was forthcoming at the time of publication.
[image via Joe Raedle/Getty Images]
Have a tip we should know? [email protected]