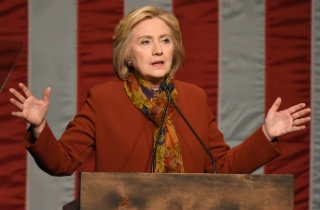 The latest batch of emails hacked from Hillary Clinton campaign chairman John Podesta's personal Gmail account includes a revelations about the main scandal surrounding the campaign: Her private email server. One email from Podesta outright says that Clinton aide Cheryl Mills pushed the former Secretary of State not to run for president, and it looks like the campaign chairman believed that this was because Mills feared that the email scandal could break.
The Mills allegations are addressed in an email chain from July 2015, which starts when Neera Tanden, President of the Center for American Progress, asks Podesta if he knows who told Clinton to use a private email server in the first place:
Do we actually know who told Hillary she could use a private email? And has that person been drawn and quartered?

Like whole thing is fucking insane.
Podesta replies with this:
Don't you think Cheryl?
Tanden gets a bit colorful when she replies to that, though she doesn't appear to directly acknowledge that Podesta suggested it was Mills who gave Clinton the bad advice (and, perhaps jokingly, advocates "the power of torture"):
I repeat, why hasn't this person been drawn and quartered?

I'm reading wolf hall. There is something to be said for the power of torture.
That's when Podesta drops this bomb:
At least we now know why Cheryl didn't want her to run.
Clinton had officially announced her campaign about three months earlier, though it was considered an inevitability for a long time before that point. For what it's worth, Jennifer Palmieri, Clinton's communications director, claimed on Sunday morning that any late Wikileaks emails of note were likely fakes:
When asked by Blake Hounshell of Politico what she was basing that on, Palmieri cited the letter from last month that blamed Russia for the hacks:
However, as pointed out in the replies, including by the official "Wikileaks Task Force" account, the letter said nothing about the legitimacy of the emails. Only the first two sentences directly mention hacked emails and they are devoted entirely to Russian actors being behind the hacks, with nothing about the emails' content.
[Photo: Shutterstock]
Have a tip we should know? [email protected]