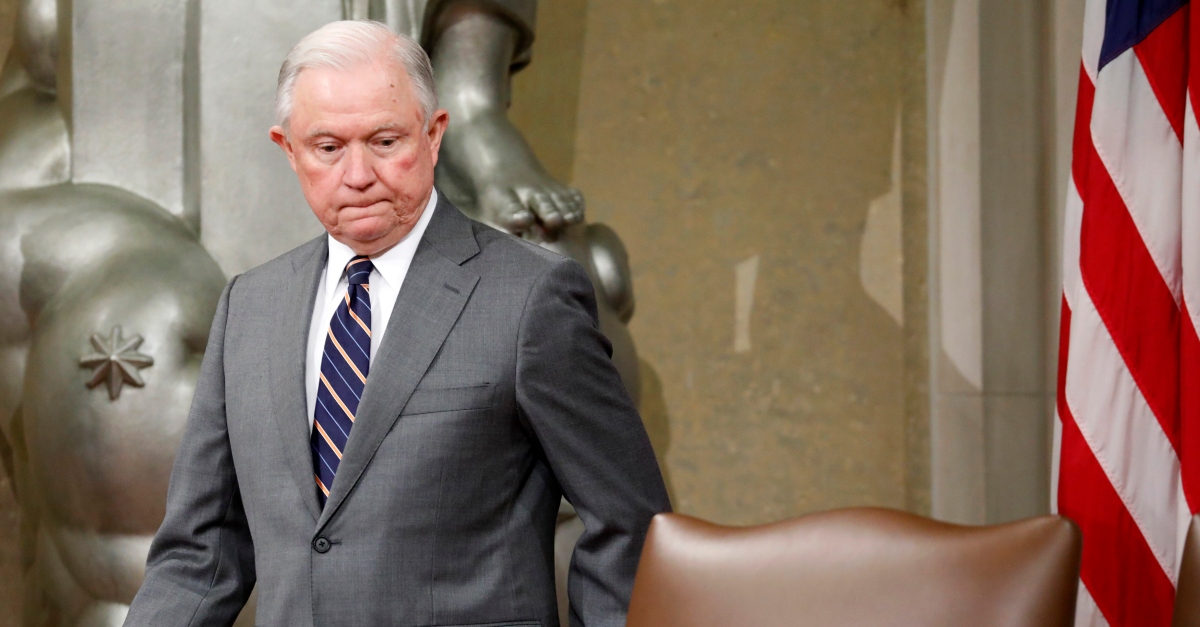 Late Tuesday night, President Donald Trump posted a tweet that some people may have found curious. As Democrats were gaining control of the House of Representatives–the body that has the power to impeach him–Trump touted the night as a "Tremendous success." If you take a look at the U.S. Senate, however, it's easy to see why.
Tremendous success tonight. Thank you to all!

— Donald J. Trump (@realDonaldTrump) November 7, 2018
A major benefit of having a Republican majority in the Senate is the ability to more easily confirm nominations made by the president. Prior to the midterms, the GOP had a slim 51-49 lead in the Senate, resulting in tumultuous confirmation processes for people like Supreme Court Justices Neil Gorsuch and Brett Kavanaugh, and of course, Attorney General Jeff Sessions.
If you recall, Democrats were merciless during Sessions' confirmation, digging up anecdotes from 30 years prior to allege that he's a racist. He made it through, but it was close. The Senate split almost entirely along party lines, voting 52-47, with two Independents opposing Sessions and just one Democrat (West Virginia's Joe Manchin) supporting him.
Since then, of course, even President Trump has left Sessions' corner, repeatedly attacking him on social media and blaming him for allowing Special Counsel Robert Mueller's Russia investigation to continue while he recuses himself. Trump has yet to go so far as to fire Sessions, but now–as of the time of this publication, 52 seats have been declared as Republican with the GOP still leading in other races–he could seek a replacement AG with greater confidence that his next pick will make it through the Senate.
Sen. Lindsey Graham (R-South Carolina) predicted Sessions' departure Tuesday night, saying, "I think Jeff [Sessions] will step aside after the midterm."
In October, the Wall Street Journal reported that Trump was already compiling a short list of replacements.
CNN legal analyst Ross Garber also noted the possibility of Sessions' departure, and mentioned that he may not be alone on his way out.
Because of Trump-Republican gains in the Senate, Trump will have no problem confirming a new Attorney General. Expect a Jeff Sessions resignation soon. New Deputy AG could also be confirmed easily; Rosenstein on thin ice.

— Ross Garber ⚖️ (@rossgarber) November 7, 2018
Rosenstein's job may be safer, of course. The Deputy Attorney General currently oversees Mueller's probe due to Sessions' recusal, and speculation has been that if he's fired, Trump would pick a replacement who would fire Mueller. Of course, if that happens, Democrats would likely accuse Trump of obstruction of justice, and they now have the numbers in the House to impeach him for it. Sessions' recusal means he doesn't enjoy that kind of protection, so his departure could be imminent.
[Image via Aaron P. Bernstein/Getty Images]
Have a tip we should know? [email protected]