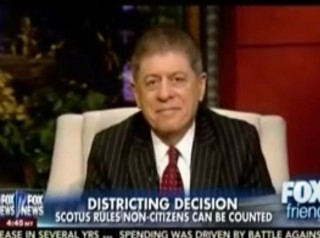 Commenting on Fox & Friends about the most recent Supreme Court decision on voting rights, Fox News legal analyst Andrew Napolitano told host Steve Doocy that the decision "may very well lead us into the direction of people who are non-citizens voting." Napolitiano was implying that non-citizens also known as undocumented residents or "illegal immigrants" could eventually gain the right to vote in the United States, based upon the legal precedent set forth by the case, Evenwel v. Abbott.  But, we are going to have to call the Judge out on this claim. A close examination of the opinion reveals that's not really what the decision said at all.
"I'm not sure that is going to happen but its a step in that direction," Napolitano was sure to add during the program. As my colleague Chris White reported yesterday, the Supreme Court on Monday unanimously (meaning 8 to 0) rejected a Texas conservative groups' challenge to the longstanding practice of local and state governments using total population as the basis for drawing legislative districts. The Texas conservative group was trying to justify re-configuring voting districts based upon eligible voters as opposed to total population (which could potentially include undocumented immigrants, as well as children). Even the most conservative Justices on the Supreme Court like Samuel Alito and Clarence Thomas rejected the group's legal claim. But, not Mr. Napolitano. He repeatedly called their decision a 'head scratcher.'
"The unintended consequence of this is that people who live in districts with a lot of illegal aliens, few voters, they will have more say in choosing their representatives. People who live in districts with fewer illegal immigrants will have less say," Napolitano said. That may be true, but if you read the 19 page opinion, you won't find anything  that talks about undocumented immigrants or non-citizen gaining the right to vote.
"I think that is a bit of a stretcher," University of California -Irvine School of Law Professor told Rick Hasen told LawNewz.com. Hasen runs the popular website, ElectionLawBlog.com, "Before and after the case the question of voter qualifications, including citizenship requirements, are issues for states and localities to determine," he said.
In fact, the opinion is based upon what our Founding Father said on how voting districts should be divided:
Endorsing apportionment based on total population, Alexander Hamilton declared: "There can be no truer principle than this—that every individual of the community at large has an equal right to the protection of government."
As for where Mr. Napolitano's interpretation could have come from? When Justice Ruth Bader Ginsburg, wrote this in her majority opinion:
Nonvoters have an important stake in many policy debates and in receiving constituent services. By ensuring that each representative is subject to requests and suggestions from the same number of constituents, total-population apportionment promotes equitable and effective representation.
Ginsburg appears to want to ensure non-voters like children or even grandparents are represented adequately in their communities.  I don't think she was necessarily referring to illegal immigrants, but even, if she was, that still doesn't mean the Court was paving the way to allow them to vote. That's not something a Court would decide in a case like this, anyway.
[h/t Media Matters]
Have a tip we should know? [email protected]
Rachel Stockman - President / On Air Host