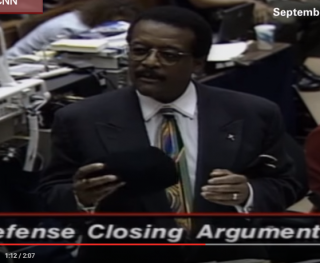 The season finale of The People vs. O.J. Simpson goes through  the dramatic reading of the "not guilty" murder verdict in the state's case against O.J. Simpson who was accused of murdering Nicole Brown Simpson and Ron Goldman. At 10 a.m on October 3, 1995, after just four hours of deliberations, the jurors found O.J. Simpson "not guilty." The world was glued to the television — from barber shops to restaurants — many court watchers held their breath as a voice from the television read: "in the matter of the People of the State of California versus Orenthal James Simpson.. we the jury in the above and titled action find the defendant, Orenthal James Simpson, not guilty of the crime of murder…"  Watch the reaction below from around the United States:

Here is just the raw footage of the verdict being read:
Judge Lance Ito ordered Simpson released from custody after spending 473 days behind bars. The case captivated the nation, ever since nearly 95 million people tuned into to watch the police chase Simpson's white bronco. The O.J. Simpson trial is still considered to be the "trial of the century."
Of course, before the verdict was read both sides gave their closing arguments. Prosecutor Marcia Clark made one last passionate plea trying to convince the jurors that Simpson was guilty beyond a reasonable doubt. "We have the Rockingham glove with all of the evidence on it: Ron Goldman, fibers from his shirt; Ron Goldman's hair; Nicole's hair; the defendant's blood; Ron Goldman's blood; Nicole's blood. And the Bronco fiber. And the blue-black cotton fibers. We have the socks and we have the blue-black cotton fibers on the socks. And we have Nicole Brown's blood on the socks. There he is," she said according to The New York Times.
Here is the video:
O.J. Simpson's attorney, Johnnie Cochran,  also gave a very famous closing argument.  At the time, one newspaper reported: "Using indignation, outrage and race, defense attorney Johnnie Cochran gave what legal experts said was a masterful closing argument that will make it difficult for the jury to convict O. J. Simpson of murder." The most memorable part was when Cochran donned a black knit cap, and told the jurors:  "you've been seeing me for a year, if I put this knit cap on who am I? I am still Johnnie Cochran with a knit cap. If you look at O.J. Simpson over there and he has a rather large head, O.J. Simpson in a knit cap from two blocks away, it's still O.J. Simpson. It's not disguise, it's no disguise. It makes no sense, it doesn't, if it doesn't fit, you must acquit."
Watch below:
[screengrab via CNN]
Have a tip we should know? [email protected]
Rachel Stockman - President / On Air Host