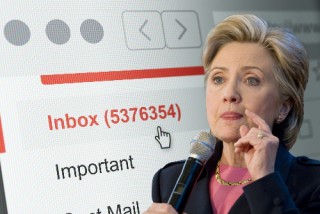 Breaking from their tradition of dumping documents from the Hillary Clinton private email server investigation online on Fridays, the FBI released a fourth file from the case on their website on Monday. The big revelation from the new file is that Patrick Kennedy, the Undersecretary of State, asked the Bureau if some of the classified emails at issue in the investigation could have their classification altered "in exchange for a 'quid pro quo.'"
In the FBI communication dated July 30, 2015, it's explained approximately six weeks earlier, someone at the Department of State sent the Bureau an email that "enclosed copies of 5 email communications from former Secretary of State HILLARY CLINTON's private email account which. STATE believed may contain 1FBI equities." The State representative, whose name is redacted, asked that the FBI do a classification review on the emails in preparation for them being released in response to a Freedom of Information Act (FOIA) request. It appears that State was not happy with the FBI's classification decision.
Soon after that, someone (name redacted) from the FBI's international Operations Division (IOD) called and "pressured" one of the agents on the case to change the email that the FBI decided was classified to unclassified. According to the FBI notes, [Redacted] indicated he had been contacted by PATRICK KENNEDY, Undersecretary of State, who had asked his assistance in altering the email's classification in exchange for a 'quid pro quo.' [Redacted] advised that, in exchange for marking the email unclassified, STATE would reciprocate by allowing the FBI to place more agents in countries where they are presently forbidden."
Later, at an "all agency" meeting led by Kennedy, the topic of the classification status came up, and, while making eye contact with the redacted FBI agent, said "Well, we'll see." Shortly thereafter, at a private meeting, Kennedy asked the same agent if the Bureau could "see their way to marking the email unclassified?" They proceeded to "debate" the classification for the next 15 minutes. The FBI note concludes by saying that "[Redacted] believes STATE has an agenda which involves minimizing classified nature of the CLINTON emails in order to protect STATE interests and those of CLINTON."
The FBI is saying that nothing was declassified, having issued the following statement on Monday:
The FBI determined that one such email was classified at the Secret level. A senior State Department official requested the FBI re-review that email to determine whether it was in fact classified or whether it might be protected from release under a different FOIA exemption. A now-retired FBI official, who was not part of the subsequent Clinton investigation, told the State Department official that they would look into the matter. Having been previously unsuccessful in attempts to speak with the senior State official, during the same conversation, the FBI official asked the State Department official if they would address a pending, unaddressed FBI request for space for additional FBI employees assigned abroad.
[Photo: Shutterstock]
Have a tip we should know? [email protected]