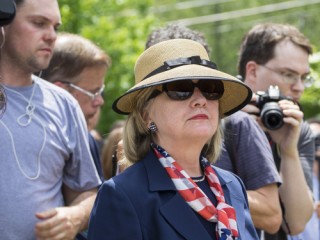 On Thursday, Hillary Clinton's presidential campaign announced a new outreach program for for Spanish-speaking votes in the form of a "hotline" available via text message. Fusion reports that the service, which is being launched in Florida, Texas, Nevad, and California at first, will be used in part to help Hispanic voters combat voter suppression efforts. Five days earlier, Donald Trump's told supporters to "get everyone you know" to "watch your polling booths" because he has heard "too many bad stories" about "certain areas" of Pennsylvania, the Clinton campaign denies that the hotline launch was connected to his comments.
Jess Morales, the Clinton campaign's digital organizing director, did admit, however,  that the hotline was inspired by "Republican legislatures and governors in states around the country who have made it harder for some people to vote."
In May, the NALEO Educational Fund released a report which found that one in three Latin American voters will be affected by laws put in place since the last presidential election in 2012. These changes, which  include new voter ID requirements, shortened early voting windows, and updated absentee ballot, often affect minorities disproportionately, so Morales classified the launch of the hotline as "a no-brainer." To access the service, anyone with text message access can text VOTA to 47246. While keyword-triggered automated responses (based on the most popular questions asked of the campaign's social media accounts in Spanish) will be sent immediately, if users need more assistance they will get responses from humans within 24 hours.
[Photo: Shutterstock]
Have a tip we should know? [email protected]