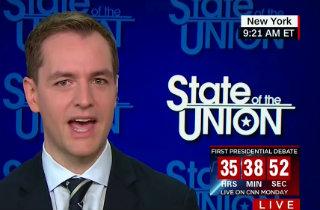 On Sunday morning, Robby Mook, the campaign manager for Hillary Clinton, made an…interesting appearance on CNN's "State of the Union" with Jake Tapper. During the segment, Tapper steered the conversation towards the latest FBI document dump on their investigation into Clinton's private email serve scandal, which happened on Friday evening. Mook refused to give a straight answer to the question, trying to deflect and change the subject to the FBI's determination in the investigation and alleged misdeeds by House Republicans with access to the complete, unredacted, classified versions of the documents.
Specifically, what happened was that Tapper asked about a section on pages 16-17 about an I.T. contractor's "December 12. 2014 work ticket referencing email retention changes and archive/email cleanup" where "[REDACTED] stated his reference in the email to ..the Hilary [sic] coverup [sic] operation." The unnamed contractor told the FBI that "the comment was a joke" and "was probably due to the recently requested change to a 60 day email retention policy." Still, Tapper obviously wanted to know why the contractor would even consider calling it "the Hillary cover-up."
Mook refused to directly answer the question, first focusing on how "FBI director Comey came out and said to the world that there was no case here." When Tapper pressed him on the "cover-up" comments, Mook still refused to actually answer the question and claimed that "The Republicans in the House side are selectively leaking documents for the purpose of making Hillary look bad," adding that the Clinton campaign is asking the FBI to "release all information that they shared with the Republicans."
This classification of the documents' origin is not true. It's possible that Mook is confusing Friday's release with what happened last month, when Clinton campaign chair John Podesta and communications director Jennifer Palmieri castigated House Republicans on Twitter for leaking the classified versions of documents to media. That said, it's not what happened here.
Instead, the FBI released the latest documents on their own website. Specifically, they were uploaded to "The Vault," the Bureau's public library of documents that are among the most popular in the Freedom of Information Act (FOIA) requests that they get. This allows them to speed up processing and spend more time on new FOIA requests in addition to being a fascinating reference library. Note that all of the Clinton email investigation documents are redacted with notes corresponding to various exemptions to FOIA.
LawNewz has reached out to both the FBI and the Clinton campaign for comment on Mook's statements to Tapper and will update this article if we hear from either of them.
In the meantime, here's the the full transcript of Tapper and Mook's exchange about "the cover-up" (emphasis ours):
Tapper: "There was a document dump on Friday we learned from the FBI that an I.T. contractor managing Hillary Clinton's private e-mail server made reference to "the cover-up" in a work ticket. He used that [term] after an aide asked him to automatically delete emails after 60 days. This I.T. worker thought he was covering something up, no?"

Mook: "I'm glad you asked this question. a lot of this stuff is swirling around out there. It's important to pull back and look at the facts. the FBI did a comprehensive and deep investigation into this and at the conclusion of that, FBI director Comey came out and said to the world that there was no case here. that they did not have evidence of wrongdoing on Hillary's part."

Tapper: "What's the Hillary cover-up operation that the I.T. worker was referring to?"

Mook: "This is the perfect example of what's going on here. The Republicans in the House side are selectively leaking documents for the purpose of making Hillary look bad. We asked FBI to release all information they shared with the Republicans so we can get the full picture. Again i would trust the career professionals at the FBI and Justice Department who looked into this matter, concluded there was no case than i would republicans who are selectively leaking information."
[Photo: CNN screen grab]
Have a tip we should know? [email protected]