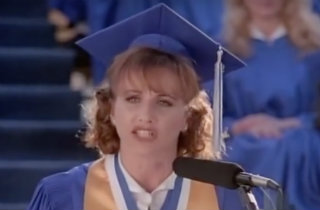 If you're an actor who's never going to age past 29 years old, then we have some good news for you.
Thanks to lobbying from SAG-AFTRA, the union for actors as well as television and radio performers, the California Governor Jerry Brown signed the bill officially known as AB 1687 into law on Saturday. Seemingly targeting the Internet Movie Database (IMDb), AB 1687 requires that services like IMDb's "IMDb Pro" must comply if a paid subscriber requests that the website remove his or her age/date of birth from the site. Here's how it's phrased in the "digest" version of the bill:
This bill would prohibit a commercial online entertainment employment service provider that enters into a contractual agreement to provide specified employment services to an individual paid subscriber from publishing information about the subscriber's age in an online profile of the subscriber and would require the provider, within 5 days, to remove from public view in an online profile of the subscriber certain information regarding the subscriber's age on any companion Internet Web site under the provider's control if requested by the subscriber.

The bill would define terms for purposes of these provisions. Under the bill, a provider that permits the public to upload or modify content on its own Internet Web site or any Internet Web site under its control without prior review by that provider would not be in violation of these provisions unless the subscriber first requested the provider to remove age information.
In a press release, SAG-AFTRA president Gabrielle Carteris, best known for her role as Andrea Zuckerman on "Beverly Hills, 90210," was quoted as saying that "On behalf of everyone in the industry who has struggled with age discrimination, whose opportunities to showcase their talent may have been blocked, I want to thank Gov. Brown and the bill's author, Assemblymember Ian Calderon, and all the California lawmakers who were instrumental in this effort. "
While Carteris, being the SAG-AFTRA president, would be the face of this issue regardless, it may very well be one that's especially personal to her. At the height of the popularity of "Beverly Hills, 90210," there was a constant media narrative about how much of the cast was too old to convincingly play high school students. Carteris, being the oldest member of the "teen" cast (she was 30 years old when her character was 18), received the brunt of the negative media.
In the SAG-AFTRA statement, the union explains that "AB 1687 will help combat age discrimination" by preventing the publication of a performer's age by 'a business that owns, licenses, or maintains personal information about a California resident,' IMDb is headquartered in Washington state, is specifically named in the press release as an affected service, as is Studio System, which is targeted towards industry professionals and appears to be located in California.
"Currently, many websites used for casting proactively present birthdates and ages to casting decision makers who often can't avoid seeing this information even if they try," the statement adds. "This law will help improve the working lives of all SAG-AFTRA members and aspiring performers."
[Photo: YouTube Screenshot]
Have a tip we should know? [email protected]