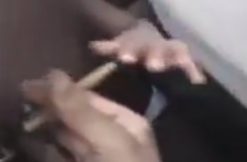 Kids learn a lot from their uncles. That includes how to handle a blunt, according to police in North Little Rock, Arkansas. Cops said a 17-year-old encouraged his little nephew to smoke a marijuana joint. They know this because the suspect allegedly uploaded video to Facebook.
Here's a censored version via Fox13 Memphis:
"The child holds this like someone would be smoking, so it makes you think this is not the first time this child has been exposed to this," Sgt. Brian Dedrick told Krem2 in a Friday report.
Cops came across the video while investigating a burglary. They said the child's mother is in the footage, protesting what happened. Now the uncle has been arrested, and is being charged as an adult for endangering the welfare of a minor. He is scheduled for a November 11 court appearance. Police said 3-year-old is now in the custody his grandmother after a health exam and a brief stay with the Department of Human Services.
[screengrab via suspect's Facebook page]
–
Follow Alberto Luperon on Twitter (@Alberto Luperon)
Have a tip we should know? [email protected]