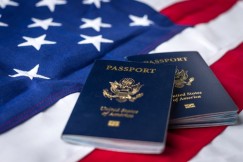 A California civil rights and sex offender reform group has filed a lawsuit in U.S. District Court in San Francisco, challenging the constitutionality of a new bill signed into law by President Obama on Monday.
The International Megan's Law's bill requires sex offenders to be identified on their passports. The civil rights group, California Reform Sex Offender Laws organization (CARSOL), filed the complaint seeking injunctive and declaratory relief. Injunctive relief is a legal remedy a party can bring in a civil lawsuit to request a court order to stop a specified act. In this case, it would be the enactment of the law.
Under the law, passports issued to sex offenders will require an identifying mark, a scarlet letter of sorts. The law, officially International Megan's Law to Prevent Demand for Child Sex Trafficking, also facilitates departmental cooperation in the travel of sex offenders. The Department of Homeland Security and the Justice Department are required to inform foreign governments of a registered sex offenders' plans to travel to a particular country. Conversely, foreign governments are to receive similar information when offenders enter the United States from abroad.
The civil rights group maintains that, as is, the law will subject individuals convicted of minor misdemeanor offenses like "sexting" or public urination to the critical scrutiny of domestic and foreign agencies. The lawsuit alleges violations of First and Fifth Amendment rights.
CARSOL's President, Janice Bellucci, believes the identifying mark could place members of the maligned minority group in danger by posing significant risks of physical harm while traveling.
This bill will mark a significant shift in social policy in America as sex offenders will be publicly branded on a fundamental document.
[h/t CBS SF BayArea]
Have a tip we should know? [email protected]