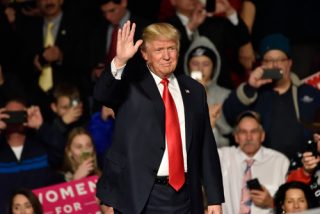 According to the LawNewz.com count, Donald Trump officially received the necessary 270 electoral votes to become the 45th President of the United States. This despite a concerted effort leading up to Monday's Electoral College meeting to persuade GOP Electors to vote against the Republican presidential nominee.  36 out of 38 GOP Texas electors voted for Donald Trump giving Trump a total of 304 Electors overall. The 2 "faithless electors"in Texas voted for Ron Paul, and John Kasich.
Elector Christopher Suprun, a 9/11 first responder, was the only to announce early on that he would veer from the State's popular tally and vote for Kasich. Suprun believes that Trump is unfit to be President and has made his intention to vote against the Republican nominee known for several weeks. 
The only other "Faithless Electors" in the 2016 Election have been Democratic Electors who were supposed to vote for Hillary Clinton. In Washington State, 8 of the state's 12 Democratic Electors voted for Clinton.  Four others refused to cast their vote for the Democratic Presidential nominee. Instead, 3 opted for Colin Powell, and the last elector cast his/her vote for Faith Spotted Eagle, a South Dakota activist against the pipeline.  In Hawaii, one Democratic elector also voted for Bernie Sanders instead of Hillary Clinton.
What happens next?
Congress will meet in joint session to count the electoral votes on January 6. The votes are recorded on six original "Certificates of Vote" and sent, paired with the remaining six original copies of the Certificates of Ascertainment, to federal and state officials. The Certificates of Vote have two lists, one for President and one for Vice President, with each list showing every candidate who received an electoral vote and how many (the lists do not show candidates who did not receive electoral votes). The six packages, each containing Certificates of Vote and Ascertainment are then sent to various officials. One is sent to Vice President Joe Biden, as he is President of the Senate, two are sent to the Archivist of the United States, David S. Ferriero, two are sent to a given state's Secretary of State, and one is sent to the Chief Judge of the federal District Court located where the electors meet.
Ronn Blitzer contributed to this report. This post has been updated as new results came in. 
[image via Shutterstock]
Have a tip we should know? [email protected]
Rachel Stockman - President / On Air Host