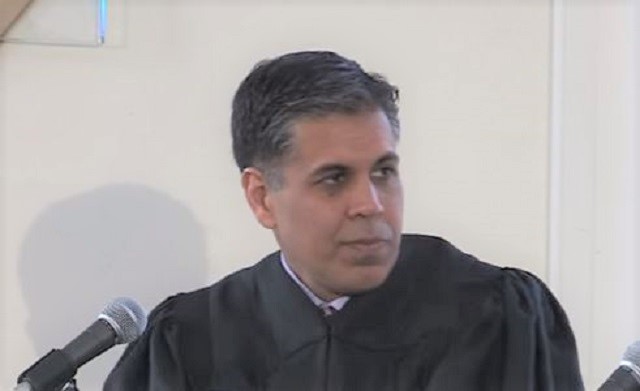 Yesterday, the Senate voted 52-44 (along party lines, of course, with four Democrats abstaining) to confirm Amul Thapar as a federal circuit court judge to the 6th Circuit Court of Appeals. Judge Thapar will now fill a vacancy that's been hanging around since 2013.
In many way's Judge Thapar's confirmation can be understood as a Tale of Two Benches. On one hand, the ascent of an accomplished jurist who happens also to be the first Indian-American federal judge is a manifestation of diversity and competence of which we can all be proud. On the other hand, President Trump's choice of Thapar illustrates the President's continued commitment to pack the federal benches with Federalist Society and Heritage Foundation favorites, which stings extra badly when compared with Obama judicial nominees who were not confirmed.
It's surely good news that Judge Thapar's background is what you'd expect for a federal appeals court judge – BS from Boston College, JD from UC Berkeley, law professor, private practice, and all the usual accolades. Thapar was an Assistant U.S. Attorney for the Southern District of Ohio, and then the top dog for the Eastern District of Kentucky before joining the federal bench as a district court judge. During his time as an attorney, Thapar was part of the Attorney General's Advisory Committee and chaired the AGAC's Controlled Substances and Asset Forfeiture subcommittee, while also serving on subcommittees on Terrorism and National Security, Violent Crime, and Child Exploitation.
He is well-respected and quite popular; during the confirmation process in 2007, the American Bar Association rated Thapar Unanimously Well Qualified. Before this whole 6th Circuit thing, Judge Thapar had been nominated to the Federal District court in 2008 by President George W. Bush, and became the first Indian-Ameircan judge confirmed to the federal judiciary.  Set against the backdrop of Betsy DeVos as education secretary or Joe Lieberman as (now, thankfully withdrawn) potential FBI director, "Unanimously Well Qualified" seems like a welcome change of pace from Trump's previous choices — and is cause for a sigh of relief.
It's even better news that Thapar brings some much-needed diversity to the 6th Circuit courtrooms, which cover federal cases in Ohio, Michigan, Kentucky and Tennessee. Diversity of background is an especially important component of the judiciary; because judges are in the interpretation business, a collective breadth of personal experience necessarily informs a wise and fair bench. There can be no question that Amul Thapar's experience as something other than a blue-blooded Harvard grad informs his jurisprudence in a helpful and balancing manner.
But the story of Thapar's confirmation is hardly cause for universal celebration. For starters, it underscores a level of procedural unfairness that's pretty tough to stomach. Under President Obama, 17 judicial nominees — 11 for the district court and six for the circuit courts — never advanced to confirmation hearings, because the Judiciary Committee strictly abided by the "blue slip rule." This long-standing Senate practice ensures that judicial nominations will not proceed unless both of the nominee's home-state senators agree. It's precisely to this rule that Judge Thapar owes his new position. The 6th Circuit seat has been vacant since 2013; Obama nominated Kentucky Supreme Court Justice Lisabeth Tabor Hughes – but Mitch McConnell refused to return a blue slip for her, and she never received a hearing.
In addition to the obvious procedural unfairness at work here, there's also some substantive reason to be less than thrilled.   Thapar, while obviously well-qualified for the federal bench, is well known for handing down many conservative decisions. Thapar has issued lengthy sentences to protesters, has opposed rules limiting campaign contributions, and has ruled against the family of a prisoner who died after medical inattention. Although Thapar told the Judiciary Committee, "I've ruled time and again against corporations and in support of the little guy," not everyone is buying his Gorsuchesque characterization of himself.
Sen. Elizabeth Warren (D-Mass.) made a floor speech Wednesday night in which she said:
"As in Justice Gorsuch's case, those radical groups are committed to doing whatever it takes to make sure that Judge Thapar sits on the nation's highest courts. "For those groups, the goal is not just to get a few ultraconservative judges on our federal courts. It is to capture the entire judicial branch."
There is no question that appointment of federal judges is one way President Trump can ensure a lasting legacy – even if his own time in office proves to be as limited as some expect it to be. Whether Amul Thapar adds the tempering voice of a reasonable conservative, or whether he is simply one more Trump loyalist thrust unwisely into this administration remains to be seen.
This is an opinion piece. The views expressed in this article are those of just the author.
Elura Nanos - Columnist & Trial Analyst, Law & Crime; CEO Lawyer Up