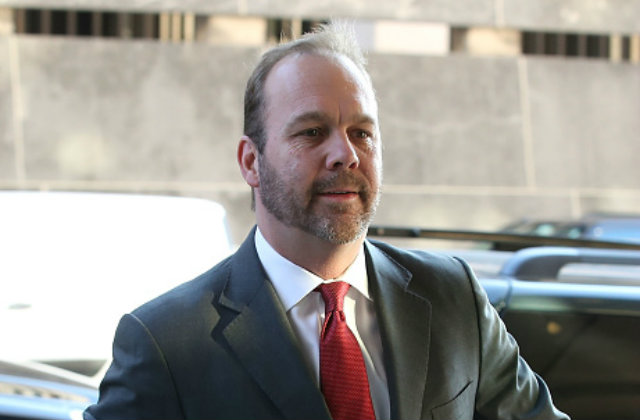 On Tuesday, Special Counsel Robert Mueller filed a motion to dismiss charges against former Trump deputy campaign chair Rick Gates that were part of an indictment filed in Virginia federal court. The indictment, filed last week, accused Gates and former Trump campaign manager Paul Manafort of tax and bank fraud related to money earned for past work for the Ukrainian government. Days after that indictment, Gates cut a deal with Mueller where he pleaded guilty in a separate case in D.C. federal court. Gates is now cooperating with Mueller's investigation, and if the dismissal of the other case is any indication, he could be helping a lot already.
At first glance, Tuesday's dismissal of the Virginia case might seem like a matter or course after the plea in the D.C. case. It's normal for plea agreements to include the dismissal of certain charges in exchange for guilty pleas to others. If that's the case, though, why is it just happening now instead of last week when the deal was made? It could be because Gates is already talking, and Mueller likes what he's hearing.
What Gates would be saying, of course, is anyone's guess. Mueller's main investigation is regarding the Trump campaign's possible ties to Russian interference with the 2016 election, but it has taken some turns, as Gates' cases show. The charges against Manafort still stand, and Mueller could be using Gates to get to him. If the Trump campaign was involved in any illegal activity, Manafort would know it, since he was the head of the operation, at least for a while.
Nevertheless, there's probably more to it than this. As Law&Crime founder Dan Abrams said Sunday on ABC's This Week, Mueller doesn't need Gates for Manafort's case.
"The kinds of crimes Manafort is charged with … these are document-heavy crimes," Abrams said. "Meaning, there's a lot of evidence there. You don't really need Gates to be able to prove the Manafort case."
So if Mueller isn't using Gates to get to Manafort, that means he's probably talking to him about the Trump campaign itself. So far, there's been a lot of smoke surrounding the campaign's ties to Russia, but no fire. We've seen emails from Donald Trump Jr. about meeting with a Russian lawyer to get dirt on Hillary Clinton, and we've had campaign members plead guilty to lying about their contacts with Russia. Whether Trump's campaign truly did anything illegal still remains to be seen, but if they did, there's a good chance Gates knows about it. With the dismissal of his case on Tuesday, Mueller might know about it too.
[Image via Mark Wilson/Getty Images]
This is an opinion piece. The views expressed in this article are those of just the author.