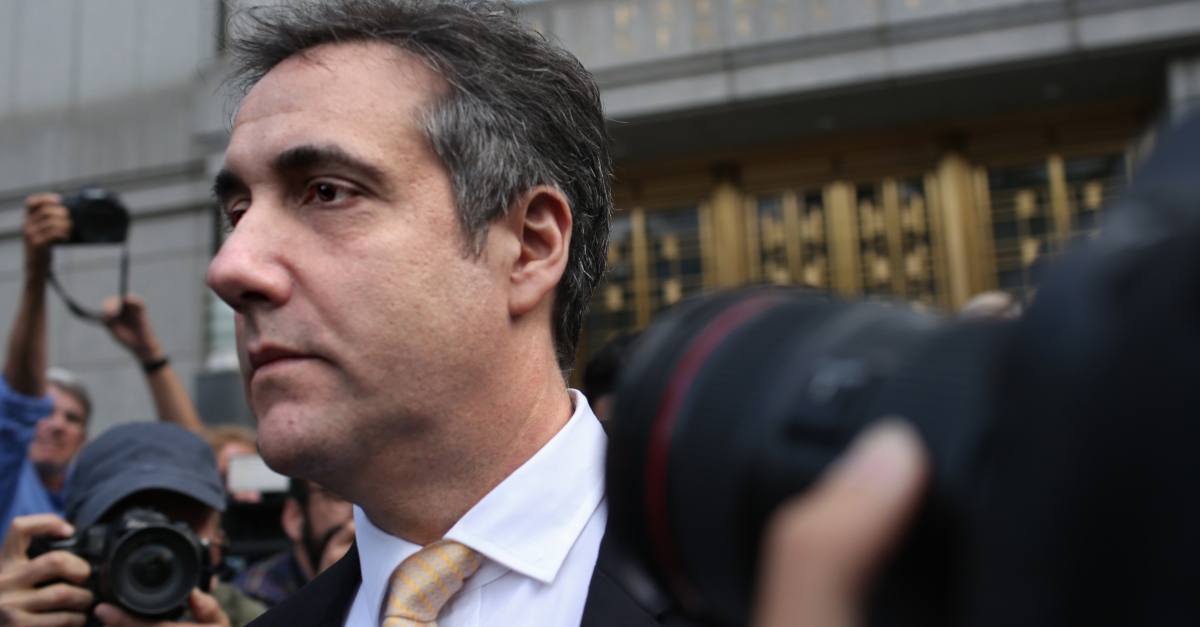 As dramatic as it was when Michael Cohen pleaded guilty and pointed the finger at Donald Trump for directing him to commit federal crimes, talk of Cohen's involvement with New York prosecutors has potential to be way worse for the first family. On Thursday, ABC News reported that Cohen is cooperating with New York State authorities to investigate the inner workings of the Trump family charity and the Trump Organization, where Cohen served as an executive vice president and special counsel for a decade.
Why is this so dangerous for the Trumps? Two words: dual sovereignty. In our unique federal system, the states have their own independent authority that is, in many respects, unfettered by federal power.  Donald Trump has no authority whatsoever to pardon anyone for a state-level crime. If New York State were to indict Trump or one of his children for violation of the New York Penal Code, the president would be utterly powerless.  Anyone who disagrees should take it up with Alexander Hamilton.
New York State, for some time, has been gearing up to do its part to bring down the Trumps. Former Attorney General Eric Schneiderman, his successor, Barbara Underwood, and even candidates running for the office, have been quite public about not only plans to investigate and charge the Trumps for independent state-level wrongdoing, but also about advocating legislative changes to ensure that New York State could prosecute crimes with a federal counterpart in the event a presidential pardon thwarts justice on the federal level.
Speaking of the New York Attorney General, in June, Ms. Underwood filed a civil lawsuit against Trump, his sons Don Jr. and Eric, and his daughter, Ivanka; that lawsuit alleges that Trump's charitable foundation and its directors have "operated in persistent violation of state and federal law governing New York State charities."
Since Robert Mueller's investigation began, talk of pardons has been perpetually looming in preparation for the day when Trump fires Mueller or pardons any of Mueller's targets. When Schneiderman was AG, he called Trump administration "the biggest threat to New Yorkers right now" and vowed to protect them from harm federal government, so we're responding to it." California, led by its Attorney General, Xavier Becerra, promised not to be far behind.
Sadly for Trump, a play by Cohen to provide meaningful assistance to the Manhattan District Attorney's Office or the New York State Attorney General would likely be the best choice Cohen could make to, "put family and country first." Given Cohen's proximity to the Trump Organization, he is uniquely suited to provide valuable evidence against the First Family; with his own fate on the line, he's probably pretty motivated to be helpful.
As things in New York unfold, Trump supporters are likely to begin screaming about presidential immunity from criminal prosecution. Much of the legal community has taken for granted the long-held belief that a sitting president is absolutely immune from criminal prosecution while in office. Most of the time, even when experts discuss the matter, no distinction is even drawn between state and federal prosecutions, as the appropriate remedy assumed is impeachment followed by post-office prosecution. Furthermore, current DOJ guidelines specifically prohibit a federal indictment.
Convenient as absolute immunity might be for Trump, however, it may not actually exist. During the Watergate scandal, the issue of presidential immunity was fully briefed and argued before the Supreme Court. However, U.S. v. Nixon  raised lots of legal issues, and in the end, SCOTUS decided the case on other grounds, never actually ruling on presidential immunity. At the time, James D. St. Clair was Richard Nixon's counsel, and Leon Jaworski was the 1977 version of Robert Mueller. St. Clair wrote in his brief, "It has never been seriously disputed by legal scholars, jurists, or constitutional authorities that a President may not be indicted while he is an incumbent."
St. Clair advocated for immunity with two main arguments 1) that because the entire power of the executive branch vests in the president alone, the idea of prosecution is ridiculous; and 2) because the Constitutional provision on impeachment specifically says that an impeached official is subject to prosecution after removal from office, the framers must have meant that those officials couldn't be prosecuted before they were removed from office. Those arguments might make some sense, but they're not even close to air-tight. My guess is that state-level immunity will become the new emoluments clause. By the third cable news cycle, millions of Americans (including those with some power to influence the outcome) who had never even heard those words will suddenly have passionate opinions about how the law disfavors Trump's position.
No matter how SCOTUS might eventually rule on the issue of immunity from state prosecution (if it were raised), two things are for sure: 1) New York seems like they are gearing up to at least try to prosecute, especially with Cohen's help; and 2) Don Jr., Eric, and Ivanka are not sitting presidents. This will definitely be one case in which the sins of the POTUS can be visited on FSOTUS and FDOTUS.
This is an opinion piece. The views expressed in this article are those of just the author.
Elura Nanos - Columnist & Trial Analyst, Law & Crime; CEO Lawyer Up