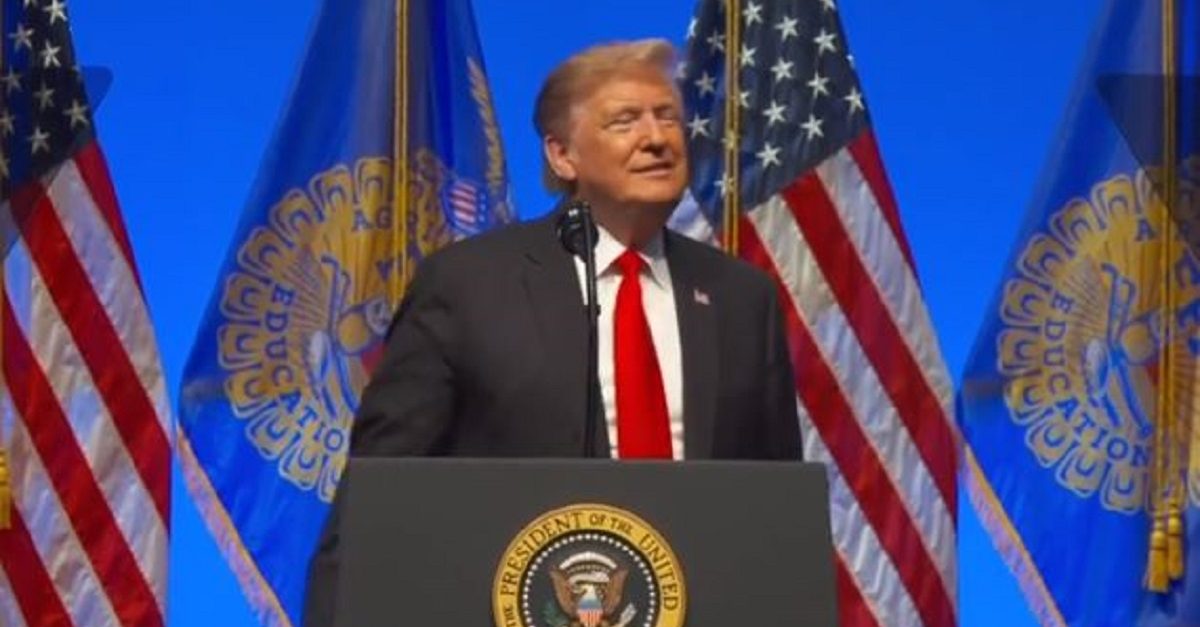 It's been a while since we've had any emoluments drama, so it's time. Watchdog group Citizens for Responsibility and Ethics in Washington (CREW) filed a new lawsuit against President Donald Trump for violations of the foreign emoluments clause of the Constitution. This time, CREW has assembled an epic legal team in hopes that its lawsuit will go the distance.
The self-proclaimed "dream team" is a veritable who's-who of legal ethics and constitutional experts, many with strong histories of openly criticizing President Trump. Here are some of the big names:
Laurence Tribe: Tribe is a tenured Constitutional Law professor at Harvard Law School, where he had Barack Obama, John Roberts, Ted Cruz, Merrick Garland, and Elena Kagan as students. He clerked for Potter Stewart of the U.S. Supreme Court, testified as a Constitutional expert during the Robert Bork Supreme Court nomination hearing, and worked on Al Gore's legal team for the litigation surrounding the 2000 election. So he's kind of a big deal.
Erwin Chemerinsky: Chemerinksy is the Dean of Berkeley School of Law, and about as renowned a Constitutional scholar as could exist. If the framers were still alive, they'd be asking Chemerinsky what the Constitution says.
Zephyr Rain Teachout: Fordham Law School Professor Teachout made a respectable showing in two high-profile New York races — the 2014 Governor's race, and the 2018 Attorney General's – for which she received the endorsement of The New York Times. During her campaign, she was pretty vocal about her plans to hold Trump accountable to the State of New York, so her involvement with CREW is no surprise.
Ambassador (Ret.) Norman Eisen: Eisen is a noted legal ethics expert, who was appointed White House Special Counsel for Ethics and Government Reform by his former Harvard Law classmate, Barack Obama. He was also the United States Ambassador to the Czech Republic.
Richard Painter: Painter adds some a dash of Republicanism into the mix. Painter was the chief White House ethics lawyer in the George W. Bush administration.
Deepak Gupta: in addition to being an appellate advocate at Gupta Wessler PLLC, Gupta is a judge of the Supreme Court of India and former Chief Justice of the Tripura High Court and Chhattisgarh High Court. He has also served as a judge at the Himachal Pradesh High Court, serving as the head of its green bench.
The primary responsibility of this legal all-star list will be to save CREW's current emoluments lawsuit from the fate of the one dismissed about a year ago. Both lawsuits alleged that President Trump is continuing to violate Article I, Section 9 of the Constitution; the general theory is that the President has an obligation to insulate himself from any foreign influence that would come in the shape of gifts or profits– precisely the kinds of profits Trump receives from his international businesses. In other words, presidents can't take bribes, and doing business with foreign governments and large foreign companies is something of a bribe per se.
CREW's 2016 emoluments lawsuit had a fatal shortcoming: CREW lacked standing to sue. Standing is the requirement that a plaintiff must have been actually harmed by a defendant's person's wrongdoing. In its complaint, CREW laid out twenty-seven ways it had been harmed by Trump's alleged violation of the Constitution, most of which amounted to CREW's having been forced to dedicate its already thin resources to monitoring Trump's conflicts of interest.
United States District Judge George B. Daniels didn't buy it, and wrote in the court's dismissal Order:
To be sure, CREW alleges that the time, money, and attention it has diverted to this litigation from other projects have placed a significant drain on its limited resources. But such an allegation, by itself, is insufficient to establish an injury in fact.
Like CREW's initial emoluments lawsuit, CREW v. Trump was filed on Wednesday in the U.S. District Court for the Southern District of New York. The 39-page Complaint details over twenty-five paragraphs of injuries suffered by CREW – many of which are the same diversion-of-resources claimed in CREW's prior lawsuit.
In the complaint, CREW repeatedly calls out Trump not only for his alleged emoluments violations, but also for his general attitude toward ethical conflicts:
As a direct result of Defendant's purposeful refusal to acknowledge that he is submerged in conflicts of interest and his purposeful refusal to take precautions necessary to avoid those conflicts, Defendant is now committing and is poised to continue to commit many violations of the Foreign Emoluments Clause—some documented, and others not yet apparent due to the complex and secretive nature of Defendant's business holdings—during the opening moments of his presidency and continually thereafter …
Lawrence Tribe was quoted in CREW's press release about the new lawsuit:
I am enormously proud to be filing this lawsuit to stop President Trump from putting his continuing pursuit of personal wealth, and his willingness to serve the foreign interests that feed that wealth, ahead of the interests and needs of American citizens and watchdog organizations like CREW. It is already clear that nothing short of judicial force will end Trump's flagrant disregard of the core barrier the Constitution's Framers erected against presidential decisions driven by personal greed or by loyalty purchased from the President by the patronage of foreign powers.Legal Dream Team Sues Trump Over Business Interests
Whether CREW's new filing remedies the shortcomings of its former lawsuit is unclear as of yet. Law & Crime will be following this case and will provide updates as it progresses.
[image via screengrab/The Hill]
This is an opinion piece. The views expressed in this article are those of just the author.
Elura Nanos - Columnist & Trial Analyst, Law & Crime; CEO Lawyer Up