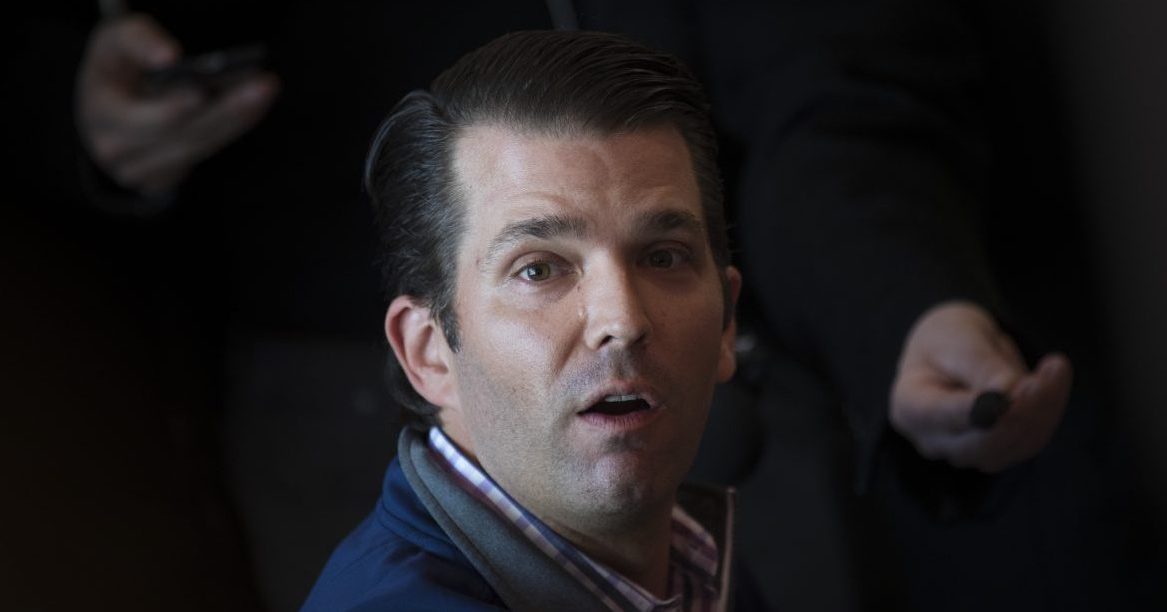 Donald Trump Jr., as many others are have on social media, has reacted to the Great Purge of Alex Jones on platforms like Facebook, YouTube, and Spotify with worries about censorship. Let's just say that Sen. Chris Murphy's (D-Conn.) commentary on the matter didn't exactly help assuage those fears. Actually, Murphy confirmed them, but Trump Jr.'s response also missed the mark.
Murphy's tweet: "Infowars is the tip of a giant iceberg of hate and lies that uses sites like Facebook and YouTube to tear our nation apart. These companies must do more than take down one website. The survival of our democracy depends on it." In other words, this kind of purge shouldn't stop at Alex Jones, and companies like Facebook and YouTube should take responsibility for the content they host.
Trump Jr. argued that Murphy had revealed his true goal of censoring conservative media, essentially using "Big Tech" as an arm of the Democratic Party to police thoughts and information.
"How long before Big Tech and their Democrat friends move to censor and purge @BreitbartNews, @DailyCaller and other conservatives voices from their platforms?" he asked.
The funny thing about Trump Jr.'s reply is his seemingly unintentional equivalence of "conservative media" with "hate and lies."
If you read what Murphy said, it's easy to see why Trump Jr. would read between the lines the way he did. That's what a lot of people were doing and will continue to do, but this is not a logical leap. It's a slippery slope argument.
Perhaps Trump Jr. will be proven right over time, but meanwhile it's worth mentioning this: nowhere did Sen. Murphy use the word "conservative." He said the words "hate," "lies," "tear our nation apart."
Comically, Trump Jr. immediately identified the martyrdom of conspiracy theorist Alex Jones as a  "conservative" issue. Even more comically, Trump Jr. linked "hate and lies" to Breitbart and the Daily Caller.
By Tuesday morning, Murphy responded to the backlash on his initial tweet by arguing that deciding not to host "hate and lies" on a private platform "is not the same as government censorship."
[Image via Drew Angerer / Getty Images]
This is an opinion piece. The views expressed in this article are those of just the author.