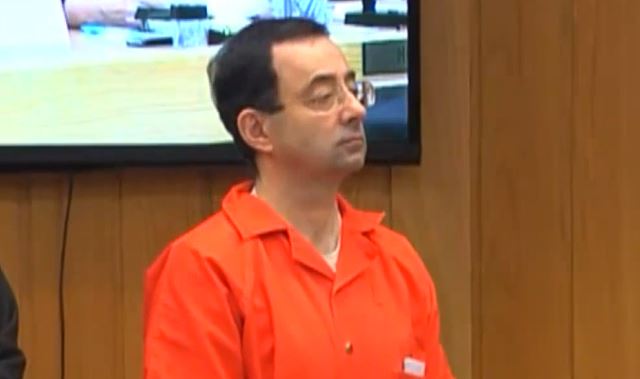 Michigan State University has reached a settlement with more than 300 people who made claims regarding sexual abuse they say was perpetrated by Larry Nassar, a former doctor with the school and USA Gymnastics. ESPN reported that the agreement was reached on Tuesday between the school's board of trustees and attorneys for 332 claimants.
As part of the settlement, MSU agreed to pay $500 million to survivors of Nassar's abuse. Of that amount, $425 million will go to those who filed claims against the school, with the remaining $75 million to be reserved for two years, in case anyone else comes forward with allegations.
Nassar has already been convicted in two criminal cases for abusing women and girls under his care since the 1990s, and was sentenced to up to 175 years in prison. He is currently already serving a 60-year sentence for a federal child pornography conviction.
More than 200 people delivered victim impact statements at Nassar's sentencing hearings. Several, such as MSU gymnast Lindsey Lemke and U.S. Olympic champion Aly Raisman, called out the institutions that enabled Nassar for so many years, particularly MSU, USA Gymnastics, and the U.S. Olympic Committee. USA Gymnastics and the USOC are named in the current lawsuits, but at this time neither one has reached a settlement agreement.
The first to publicly make allegations against Nassar was former gymnast Rachael Denhollander. She was the last to provide a victim impact statement at the first of two sentencing hearings. She said she is glad that a settlement was reached, but was unhappy that it did not include any changes to the school's official policies or practices.
"I'm very happy that we're done with litigation," Denhollander stated. "I'm very grateful for the historic number that acknowledges some of the hardships that these women have suffered. I'm also very disappointed in a missed opportunity to create meaningful policy changes."
[Image via Law&Crime screengrab]
Have a tip we should know? [email protected]