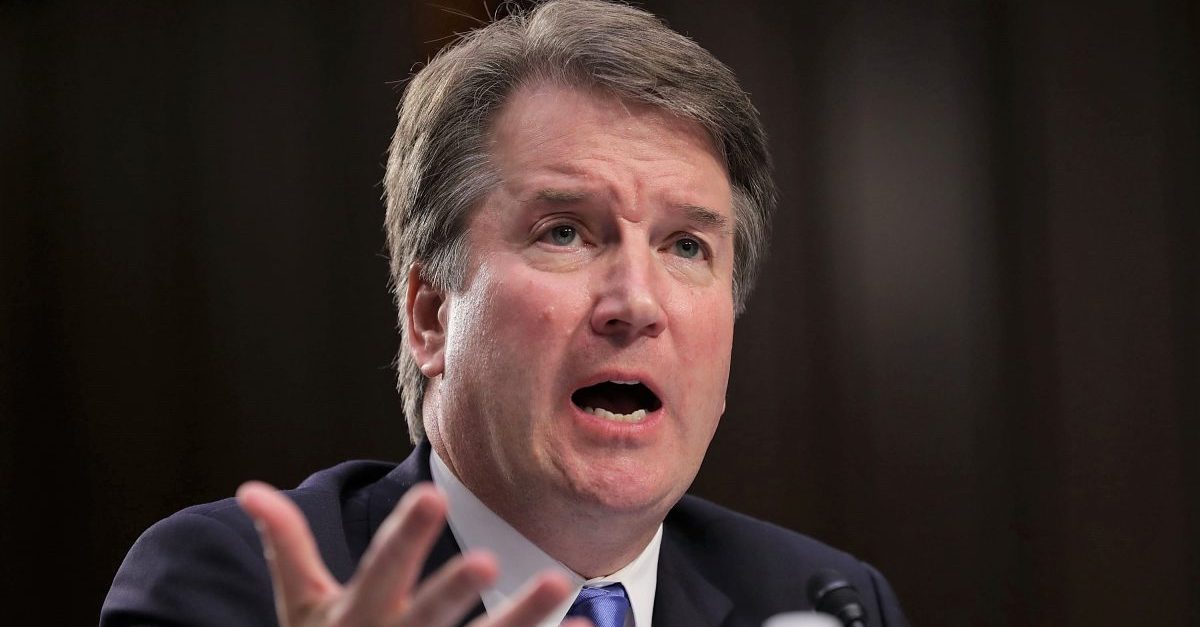 New emails show that Supreme Court nominee Brett Kavanaugh was much more in the loop on the nomination of Judge William Pryor to the U.S. Court of Appeals than previously known.
The Washington Post's Seung Min Kim is reporting that Pryor, referred to in the story as a "controversial" George W. Bush nominee, was more on Kavanaugh's radar than he testified to more than a decade ago.
Here are the Kavanaugh quotes from 2004, in response to Sen. Edward Kennedy (D-Mass.): "I am familiar generally with Mr. Pryor, but that was not one that I worked on personally,"and, "I was not involved in handling his nomination."
The Post reported that, contrary to what Kavanaugh said, President Donald Trump's Supreme Court nominee was contacted in emails about an interview of Pryor back in 2002:
On Dec. 16, 2002, Kavanaugh received an email, reviewed by The Washington Post, from another White House aide with the subject line "CA11" – a reference to the 11th Circuit. The aide, Kyle Sampson, asked: "How did the Pryor interview go?" Kavanaugh then responded: "Call me."
Then there's this email from 2003, with Kavanaugh BCC'd: "There will be an emergency umbrella meeting tomorrow at 2:30 p.m. (right after the 1:30 call) at the law firm of Baker & Hostetler [redacted]. We need to discuss nominee Bill Pryor's hearing next Wednesday and there are important confirmation process issues with Judge Kuhl that need to be addressed."
The Post says the email showed that Kavanaugh was included on an email chain to "discuss Pryor and coordinate plans and efforts."
Besides exploring the veracity and accuracy of Kavanaugh's past testimony, the Post is mentioning this in light of Pryor's expressed views on Roe v. Wade, a subject that Kavanaugh has said during current hearings was not merely "precedent" but "precedent on precedent" in the form of the subsequent case Planned Parenthood v. Casey.
Pryor is on record calling Roe v. Wade "the worst abomination of constitutional law in our history." While Alabama attorney general, Pryor also argued that states should be free to keep sodomy laws in place.
[Photo by Chip Somodevilla/Getty Images]
Have a tip we should know? [email protected]