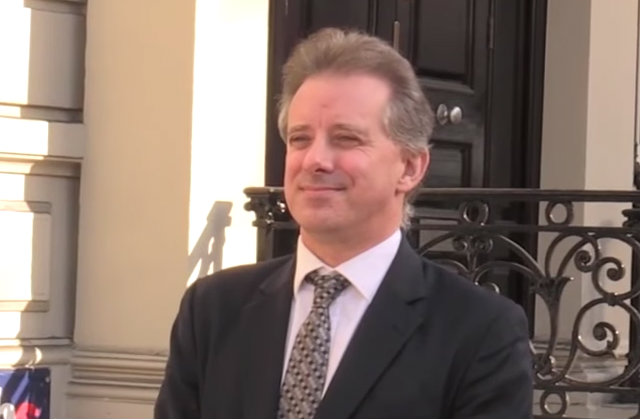 An otherwise unexplored section of the recently released–and poorly understood–Nunes surveillance memo commands the attention of those presently wandering through Memoland. Let's take a look.
The Nunes surveillance memo reveals that former MI6 spy Christopher Steele was dismissed as an FBI source after it was determined that Steele leaked about his relationship as a source to various news media and then lied about those leaks–or concealed them–to FBI agents.
Section 2(a) of the memo offers the following description of Steele's alleged mendacity. This section reads, in full:
Steele was suspended and then terminated as an FBI source for what the FBI defines as the most serious of violations–an unauthorized disclosure to the media of his relationship with the FBI in an October 30, 2016 Mother Jones article by David Corn. Steele should have been terminated for his previous undisclosed contacts with Yahoo and other outlets in September–before the Page application was submitted to the FISC in October–but Steele improperly concealed from and lied to the FBI about those contacts.
A previous section of the memo documents the Yahoo News connection. This section reads, in relevant part:
The Carter Page FISA application also cited extensively a September 23, 2016 Yahoo News article by Michael Isikoff, which focuses on Page's July 2016 trip to Moscow. This article does not corroborate the Steele dossier because it is derived from information leaked by Steele himself to Yahoo News.…Steele has admitted in British court filings that he met with Yahoo News—and several other outlets—in September 2016 at the direction of Fusion GPS.
If this accusation is accurate, it does appear that Christopher Steele may have committed a crime that most people would be over-indicted for: lying to the FBI–or, more accurately, making a false statement (codified at 18 USC §1001).
Recall: making a false statement (to the FBI) is the same crime for which both George Papadopoulos and Michael Flynn were given the screws of Robert Mueller's justice.
Papadopoulos was indicted for making a false statement to the FBI, who described his offense as, "falsely [describing] his interactions with a certain foreign contact who discussed 'dirt' related to emails." Flynn, similarly, pleaded guilty to one felony count of making "materially false statements and omissions during an interview" with the FBI concerning his discussions with the Russian Ambassador to the United States.
As far as we know, neither Papadopolous' nor Flynn's underlying conduct was actually illegal. At least going by each man's charging documents, there were no crimes to begin with: only hare-brained cover-ups which then became the crimes for which each man was charged. The major problem the FBI saw with these lies to their agents was expressed in each statement of offense using essentially the same language.
Flynn's charging document reads, "FLYNN's false statements and omissions impeded and otherwise had a material impact on the FBI's ongoing investigation into the existence of any links or coordination between individuals associated with the [Trump] Campaign and Russia's efforts to interfere with the 2016 presidential election."
Papodopoulos' reads, "Through his false statements and omissions, defendant PAPADOPOULOS impeded the FBI's ongoing investigation into the existence of any links or coordination between individuals associated with the [Trump] Campaign and the Russian government's efforts to interfere with the 2016 presidential election."
Here, Steele's underlying behavior also likely doesn't fall under any criminal statute (though revelations to the news media about his role as an FBI source could plausibly be prosecuted by some zealous federal apparatchik) but if Steele did in fact lie to the FBI–as appears likely–he all but certainly committed the same crime as both Flynn and Papadopoulos.
Of course, there's not necessarily anyone for Steele to flip on–as many speculate was the primary factor for both Trump team members being charged in the first place. But just because Steele may not provide Mueller additional fish to fry doesn't mean he didn't break the law. And, yes, the timeline here is acknowledged and important: Mueller's investigation wasn't underway when Steele was dropped for his alleged lies and omissions–it was still Comey's FBI investigation.
This fact raises another set of questions–perhaps too numerous to fully explore here. But a few theories immediately spring to mind:
(1) If the FBI went hard after their major source–Steele–for lying to them, that would immediately and naturally put almost everything produced by Steele into question. In other words, they might have to toss the dossier in its entirety and that, for obvious reasons, could not be allowed to happen;
(2) It's entirely possible (but maybe far-fetched) that FBI and DOJ higher-ups were more or less in on all or part of Steele's fabrications and omissions. For that reason, they'd be quite leery of charging Steele with the crime of lying to rank-and-file agents after he thought everyone else was just playing along.
Again, the two above theories are simply informed speculation. They're not the only ones and they're not here being advertised as the most plausible. But in regards to the entire Russiagate affair, there's really only one certainty: everyone's probably making things up and lying about something.
As for the particular question as to why Steele was gingerly disposed of instead of threatened with the full force of a black-and-white indictment? We may not have to wait much longer.
Senator Chuck Grassley (R-IA) is aware of at least some of these machinations, is quite confused and angry (as usual), and is presently pushing hard for answers as to why Steele got tossed aside with the finest-fibered kid gloves Comey's FBI was capable of wearing.
[image via screengrab/CBS]
Follow Colin Kalmbacher on Twitter: @colinkalmbacher
Have a tip we should know? [email protected]