A federal judge in Illinois has dismissed a Chicago man's class-action lawsuit against Buffalo Wild Wings over the type of meat inside the so-called "boneless" chicken wings, but lawyers for the plaintiff say they intend to refile the complaint.
Aimen Halim, a resident of Illinois, says that Buffalo Wild Wings misled and defrauded him and other customers over its "boneless" chicken wings menu item. Reasonable customers, Halim says, could believe that they were getting "chicken wings that have simply been deboned, and as such, are comprised of entirely chicken wing meat."
Halim says that's not actually the case.
"Unbeknownst to Plaintiff and other consumers, the Products are not wings, but instead slices of chicken breast meat," the complaint alleges. "Thus, the marketing and advertising of the Products as 'Boneless Wings' is false and misleading."
Halim describes Buffalo Wild Wings as a "casual dining restaurant and sports bar chain that specializes almost entirely in selling chicken wings" and says that it is "one of the largest casual dining restaurants in the world," with more than 500 locations in the U.S. and at least 50 international locations, including in India, the Philippines, Saudi Arabia, and Vietnam, as well as Mexico and Canada. After offering a detailed history of an industry-wide shift to selling "boneless 'wings'" that arose out of the costs of chicken wings going up while the cost of chicken breast declined, Halim alleges that it "seems clear" why the chain started selling boneless wings "and why it has continued to purposefully mislead consumers: a profit motive."
Halim says that had he known that the "boneless wings" were actually pieces of chicken breast meat, he wouldn't have purchased them — or, at the very least, he would have paid "significantly less" for them.
"As a result, Mr. Halim suffered a financial injury as a result of Defendants' false and deceptive conduct," the complaint says.
As examples of what Buffalo Wild Wings perhaps should have done, Halim points to how other casual chain restaurants have promoted their breaded, bone-free, snack-sized chicken products.
"For example, Domino's Pizza uses the name Boneless 'Chicken' and is careful to conspicuously inform consumers that the product is made of '100% whole white breast meat,'" the complaint says, accompanied with an image of what is apparently a serving of Domino's breaded chicken pieces. "Other companies, like Papa Johns, name the product 'Chicken Poppers,' and are also careful to inform consumers that the product is made of chicken breast meat."
Buffalo Wild Wings, however, took no such steps, the complaint alleges.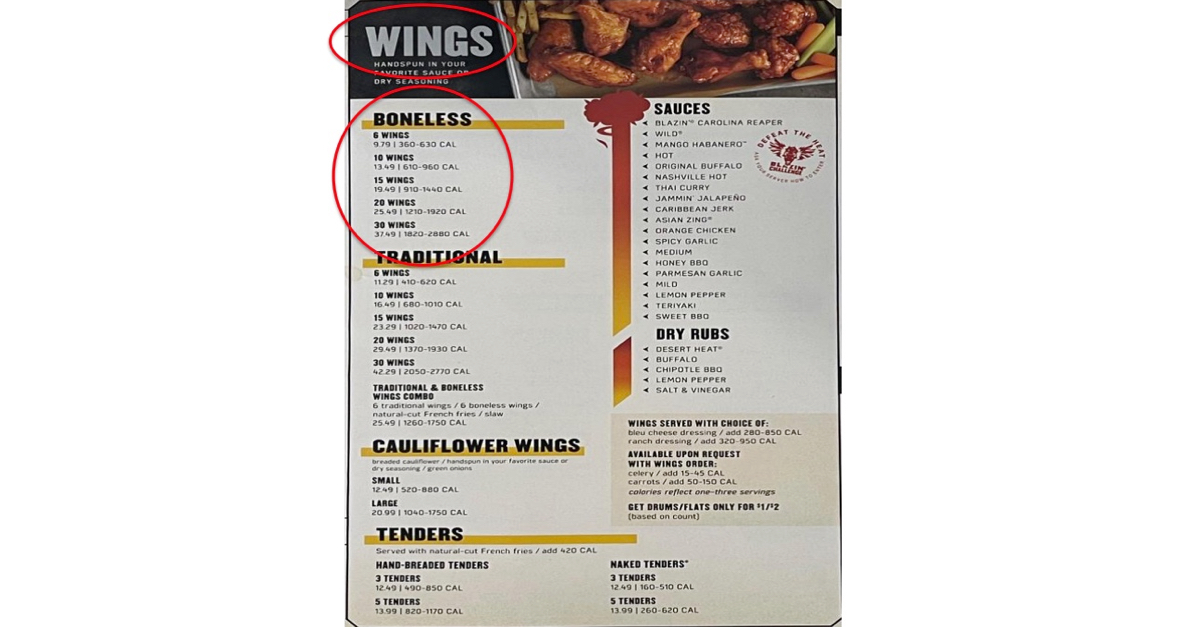 "Plaintiff and Class members did not know, and had no reason to know, that the Products were not chicken wings because of how the Products are deceptively marketed and advertised," the complaint says.
The lawsuit says that the chain should be held to a higher standard simply because of its name.
"[A] restaurant named Buffalo Wild 'Wings' should be just as careful if not more in how it names its products," the complaint says.
Halim alleged claims include breach of warranty, fraud, and unjust enrichment. He was seeking an undetermined amount of compensatory and punitive damages on behalf of a potential class of plaintiffs defined in the complaint as "all persons in the United States who, within the relevant statute of limitations periods, purchased any of the [wings advertised as boneless]."
He also wants an injunction barring the restaurant chain from promoting its "boneless" chicken wings, saying that without one, he will be "unable to rely with confidence" on Buffalo Wild Wings' future advertisements.
On Monday, U.S. District Judge John Tharp, Jr. dismissed the complaint on procedural grounds, although it is not likely the end of the road for Halim.
Tharp, a Barack Obama appointee, gave the plaintiff until March 27 to fix the complaint. Halim's lawyers told Law&Crime that they do intend to refile.
"We will be amending per the court's order," attorney Ruhandy Glezakos, the Los Angeles-based Treehouse Law firm, said in an email.
Representatives from Buffalo Wild Wings did not immediately respond to Law&Crime's request for comment, although the company's social media account didn't seem to bat an eye at the controversy.
"It's true," the official "BWWings" Twitter account posted Monday afternoon. "Our boneless wings are all white meat chicken. Our hamburgers contain no ham. Our buffalo wings are 0% buffalo."
It's true.
Our boneless wings are all white meat chicken.
Our hamburgers contain no ham.
Our buffalo wings are 0% buffalo.

— Buffalo Wild Wings (@BWWings) March 13, 2023
Cases alleging fraud and deception against food companies are not entirely uncommon; recent years have seen lawsuits against TGI Fridays, Kraft, and Burger King over claims about ingredients, cook time, and sandwich size; lawsuits have also been lodged against King's Hawaiian, Texas Pete Hot Sauce, and Barilla by consumers who say they were misled as to the respective products' geographic origins.
You can read Halim's complaint here.
Have a tip we should know? [email protected]