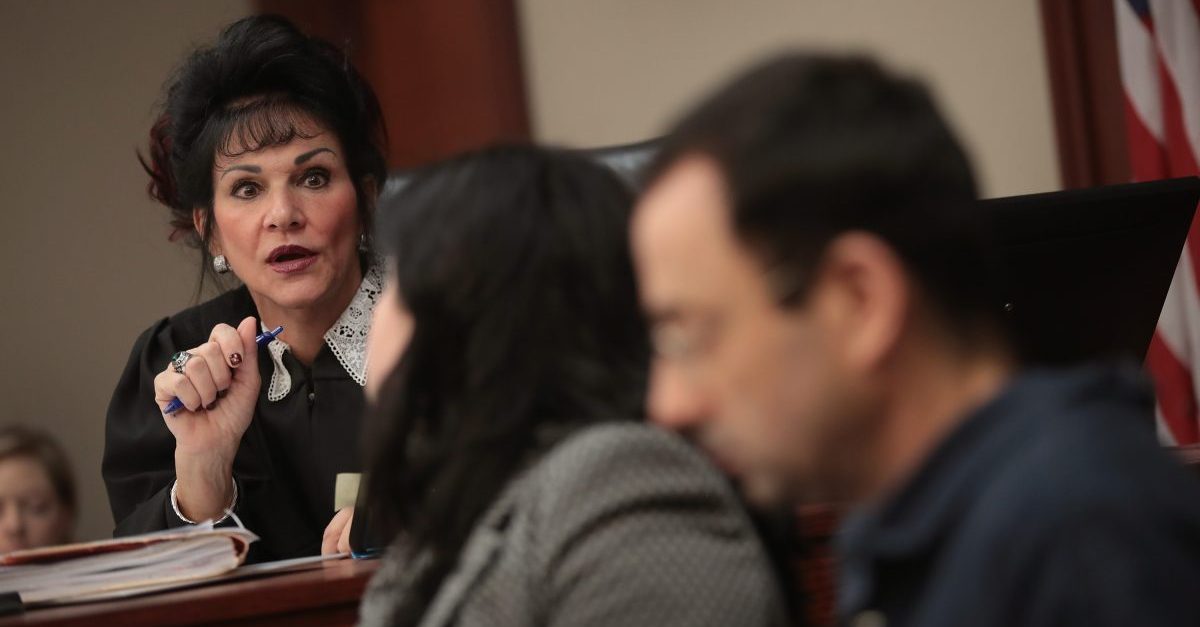 Disgraced former USA Gymnastics and Michigan State University doctor Larry Nassar is trying to fight his sentence for multiple instances of sexual abuse. Nassar was hit with up to 175 years in prison by Ingham County, Michigan Judge Rosemarie Aquilina in January, after more than a hundred women and girls delivered victim impact statements with claims that they were assaulted by Nassar during what were supposed to be medical treatments.
Nassar said in a recent court filing that he wants a new sentencing hearing with a new judge, because he feels Judge Aquilina was out to get him from the start, as evidenced by her harsh words towards him during sentencing.
"Judge Aquilina made numerous statements throughout the proceedings indicating that she had already decided to impose the maximum allowed by the sentence agreement even before the sentencing hearing began," Nassar's attorneys wrote in the court filing. "Thus, from the defendant's perspective the sentencing hearing was just a ritual."
A court filing from the office of Michigan Attorney General Bill Schuette countered this in a filing of their own.
"As the voice of the community, a sentencing judge is permitted to use strong language to redress the victims and express the grievance of society," attorneys for the state said.
Assistant Attorney General Christopher M. Allen claimed that the extreme nature of Aquilina's statements were simply due to the extreme nature of Nassar's offenses.
"That her frustration edged toward brief wishes of physical retribution, and that her ultimate sentence was described as a 'death warrant,' are the unfortunate result of the extent and severity of his crimes, which the judge responded to in a graphic manner," the filing said. "In short, Larry Nassar's reprehensible conduct required condemnation."
Attorneys for both sides are scheduled to argue the issue in court at a hearing on Friday.
Nassar was also sentenced to up to 125 years in prison by another judge in a subsequent sentencing hearing for separate charges in Eaton County, Michigan. Before serving time for the sexual assault convictions, he is currently serving a 60-year sentence for a federal child pornography conviction.
[Image via Scott Olson/Getty Images]
Have a tip we should know? [email protected]