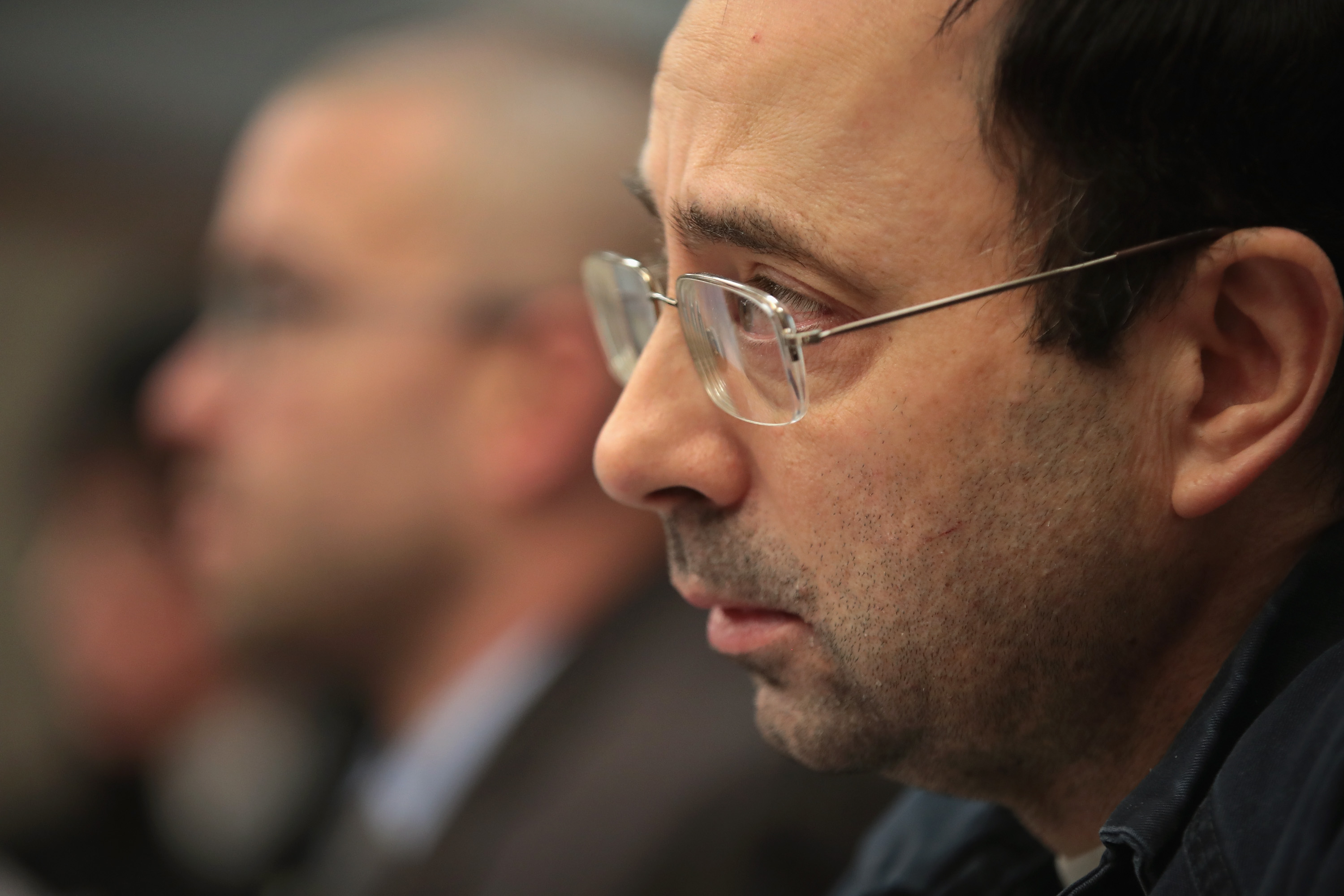 Larry Nassar's decades worth of sexual abuse–involving at least 25 student-athletes at MSU–did not amount to a violation of NCAA rules, according to a letter released by the university on Wednesday.
Addressed to the NCAA's vice president of enforcement, Jonathan Duncan, MSU's letter candidly notes that the university is currently undergoing multiple investigations over Nassar's conduct, both state and federal.
Penned by attorney Mike Glazier, the letter reads, in part:
I trust that you will see that the University is in no way attempting to sidestep the issues facing it, and that if the University had any reason to believe the criminal conduct of Nassar also implicated NCAA rules violations, the University would accept responsibility in that area as well.
In January, the NCAA sent MSU their own letter. In that letter, the collegiate athletics organization listed a variety of potential rules violations related to Nassar's long-running criminal behavior that could be attributable to the university itself. MSU strongly disagreed with those implications.
Glazier's letter continues, arguing, "[A]fter a thorough and analytic examination of NCAA legislation, and an application of the known facts associated with the Nassar matter to NCAA legislation, the University finds no NCAA rules violations." According to Glazier, MSU found no evidence that Nassar's sexual abuse violated three punishable NCAA bylaws in particular.
One of those bylaws deals with providing student-athletes certain benefits contrary to the rules manual. Another bylaw deals with improper recruitment violations. The final bylaw noted in Glazier's letter addresses "banned substances or impermissible supplements [given] to student-athletes…contrary to medical licensure, commonly accepted standards of care in sports medicine practice or state or federal law."
Finally, the letter addresses a fourth bylaw which "identifies the well-being of student-athletes as an imperative for Division I members," in Glazier's words. Here, Glazier insists that MSU agrees with the referenced bylaw's intent but notes, "the commitment to student-athlete well-being…serves as a guide for Division I members and is not subject to enforcement procedures."
The letter also offers a generic bit of salve-like language, noting, "To be clear, the University find Nassar's conduct to be abhorrent and a violation of every standard of conduct expected of University employees. The University's thoughts and prayers are with the survivors and their families."
Larry Nassar abused over 267 women and girls over the course of his employment as MSU's sports medicine doctor and as a team doctor for multiple USA Gymnastics Women's teams.
[image via Law&Crime]
Follow Colin Kalmbacher on Twitter: @colinkalmbacher
Have a tip we should know? [email protected]