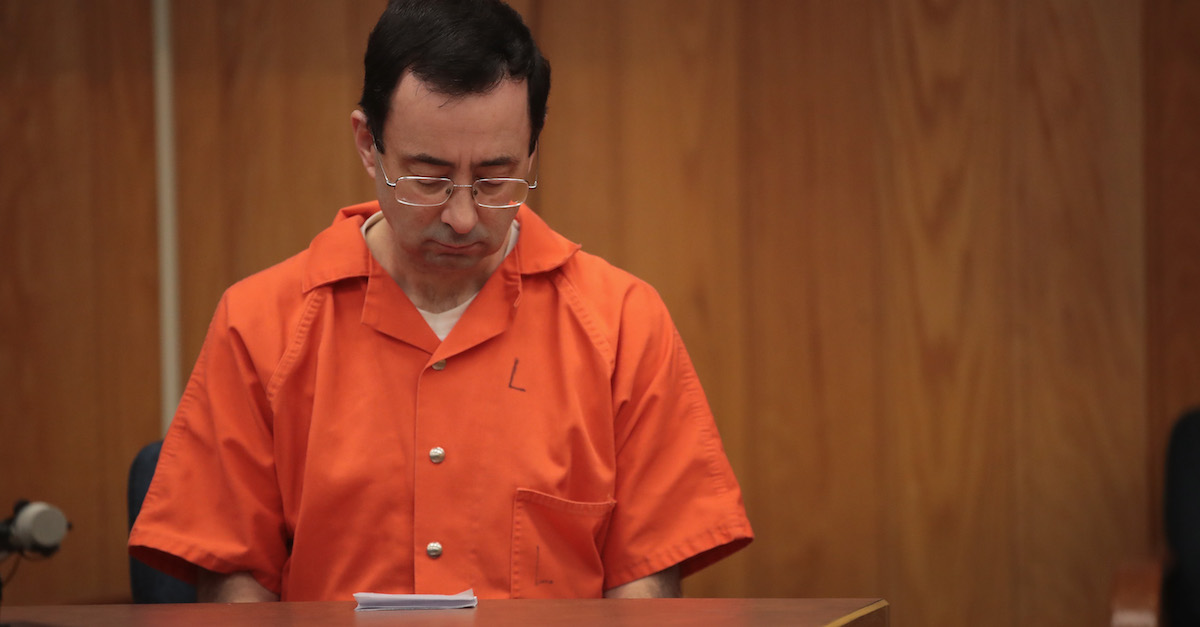 A former Michigan State University gymnastics coach is facing criminal charges for allegedly making a false statement to an investigator who was looking into sexual abuse committed by former school doctor Larry Nassar, the Lansing State Journal reported.
Kathie Klages allegedly told an officer that she was not aware of allegations against Nassar before 2016, but according to the Michigan Attorney General's Office, that was a lie. David Jesse, a reporter for the Detroit Free Press reported that Klages made this denial as the Michigan State Police was investigating how Nassar was able to continue abusing women and girls for decades.
While investigating how Larry Nassar was able to get away with sexually assaulting hundreds of individuals on and off Michigan State's campus, Klages denied to Michigan State Police detectives having been told prior to 2016 of Nassar's sexual misconduct.

— David Jesse (@reporterdavidj) August 23, 2018
This was apparently contradicted by witnesses who told authorities that they complained to Klages about abuse dating back for decades. One gymnast, Larissa Boyce, said she notified Klages in 1997 that Nassar had sexually assaulted her. Former MSU gymnast Lindsey Lemke, who famously called out the university in a blistering impact statement at one of Nassar's sentencing hearings, claimed that after the disgraced doctor was arrested, Klages asked the team to sign a sympathy card for him, ESPN reported.
Klages was suspended by the university in February 2017. The following day, she retired after being accused in court documents of discouraging a gymnast from reporting Nassar's actions. She is now facing two counts of lying to a peace officer. One is a felony charge, the other a misdemeanor. Ingham County District Court set bond at $5,000
Nassar was sentenced to up to 175 years after a hearing in Ingham County, where he faced more than 100 women and girls who claimed that he abused them during medical treatments while he worked for MSU and USA Gymnastics. He was sentenced to up to 125 years in a separate but related case in Eaton County.
Both MSU and USA Gymnastics have been sued by hundreds of former patients who allege that they suffered abuse because the institutions failed to act. The school has already agreed to pay $500 million to settle claims.
[Image via Scott Olson/Getty Images]
Have a tip we should know? [email protected]