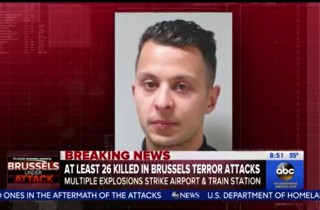 Former White House counterterrorism expert Richard Clarke strongly believes that the recently captured Paris attack suspect Salah Abdeslam was well aware, and possibly linked to the attacks that unfolded in Brussels Tuesday morning. Belgian news media reports that at least 34 people were killed and more than 170 were injured during the explosions. After a 125 day manhunt, authorities arrested Abdeslam over the weekend. Authorities raided dozens of homes in the area, as they searched for Abdeslam in an area known as Molenbeek.
Clarke told Good Morning America's George Stephanopoulos the following about why Abdeslam is such a crucial part of this investigation:
"I think it is highly likely that when he was arrested that he knew these attacks were being planned. He certainly knew the identity of the cell. After he was arrested, the Belgium police and the Interior Ministry said two things: One, we are anticipating attacks coming in the near future. And two, the cell networks was much bigger than they think it is."
WATCH here:
Clarke said that it is crucial that investigators zero in on Abdeslam to extract information. "They are going to try to persuade him in any way they can that he needs to cooperate—there is clearly a much bigger terrorist network (out there)," Clarke said.
[screengrab via ABC News]
Have a tip we should know? [email protected]
Rachel Stockman - President / On Air Host