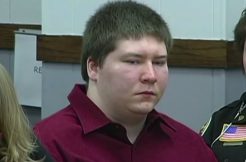 Will convicted killer Brendan Dassey go free? Not if the Wisconsin Attorney General's Office wins their appeal against his petition for a writ of habeas corpus. On Wednesday, they filed their opening brief in Dassey v. Dittman in a bid to keep him locked up.
A federal judge overturned Dassey's conviction in August, saying that his videotaped confession to the 2005 murder of photojournalist Teresa Halbach was "involuntary" under the Fifth and Fourteen Amendments.
But the AG is now requesting an oral argument, and a chance to prove that police did everything legit. They maintain that he fessed up to his role in the killing without undue prodding from investigators. From the opening brief:
Furthermore, Dassey volunteered the vast majority of the details of his story in response to open-ended questions, like "what did you see?" and "what happens next?" Supra pp. 13–16. By the time the investigators asked their first leading question with a detail that Dassey had not already suggested—"Who shot her in the head?" SA 76—Dassey had already described raping, stabbing, choking, cutting, tying up, and disposing of Halbach. Supra p. 16. Dassey's confession is therefore much more likely to be voluntary than simple "yes-or-no answers" to "leading or suggestive" questions.
Meanwhile, Dassey's current attorneys want him out on bond, and are, of course, working to keep him free for good.
Dassey and his uncle Steven Avery were both sentenced to life for Halbach's killing, but they continue to dispute their convictions. The case became famous thanks to the 2015 Netflix documentary Making a Murderer.
You can read the AG's opening brief here:
Wisconsin Attorney General, Opening Brief – Brendan Dassey by LawNewz on Scribd
[Screengrab via ABC]
–
Follow Alberto on Twitter (@Alberto Luperon)
Have a tip we should know? [email protected]