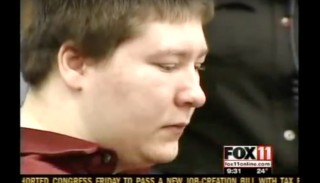 A federal judge has thrown out Brendan Dassey's conviction, and ordered that Dassey be released from prison, unless within 90 days of the date of his decision, the state of Wisconsin initiates proceedings to re-try him. Dassey's conviction was put into the spotlight after the Netflix hit documentary, Making a Murderer.
In 2007, Dassey was convicted of murdering freelance photographer Teresa Halbach. His videotaped confession played a pivotal role in his conviction even though Dassey later recanted. However, in a decision released late Friday afternoon, federal Judge William Duffin found the confession "involuntary" under the Fifth and Fourteenth Amendments.
Here is the critical section from federal Judge Duffin's decision explaining why he threw the conviction out:
…the state courts unreasonably found that the investigators never made Dassey any promises during the March 1, 2006 interrogation. The investigators repeatedly claimed to already know what happened on October 31 and assured Dassey that he had nothing to worry about. These repeated false promises, when considered in conjunction with all relevant factors, most especially Dassey's age, intellectual deficits, and the absence of a supportive adult, rendered Dassey's confession involuntary under the Fifth and Fourteenth Amendments….

IT IS THEREFORE ORDERED that Brendan Dassey's petition for a writ of habeas corpus is GRANTED. The respondent shall release Dassey from custody unless, within 90 days of the date of this decision, the State initiates proceedings to retry him. See Jensen v. Schwochert, 2013 U.S. Dist. LEXIS 177420, 55 (E.D. Wis. Dec. 18, 2013). The Clerk shall enter judgment accordingly.
LawNewz.com is going through the decision and will post more information as we get it.
 Here is the order:
Have a tip we should know? [email protected]
Rachel Stockman - President / On Air Host