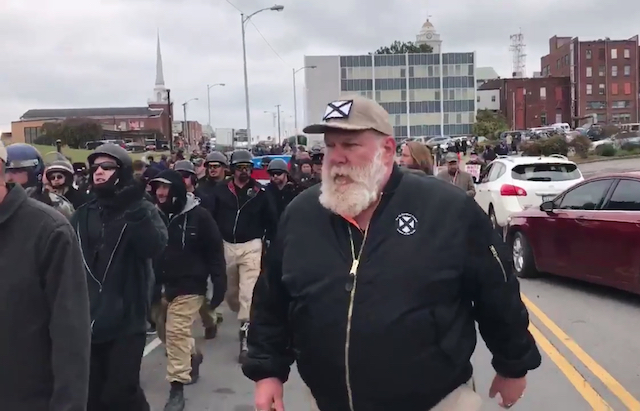 Shelbyville, Tennessee — Roughly 200 white supremacists, white nationalists, neo-Nazis and other assorted members of the alt-right held a "White Lives Matter" rally today–only to be drowned out by anti-fascist and anti-racist protesters blaring Beyoncé songs.
The protesters were reported to have vastly outnumbered the rally attendees, according to local media on the scene.
Some of the protesters made ironic signs and held them towards the white nationalists while the sides were separated from each other by police and barricades. One sign read, "Yall wild." Another said, "Send nudes."
In addition to Beyoncé songs, the protesters also played Bob Marley, another black musician. In an apparent attempt to needle the white nationalists, the music was introduced by one protester who said, "This is what your kids are listening to at home right now, by the way." Protesters also blared the speeches of Martin Luther King–effectively shutting down the rally's sound system.
One of the "White Lives Matter" attendees claimed he traveled to the event without any racial animosity or motivation.
In an interview with the local Fox affiliate, he said his grievances had to do with people on welfare being supported by taxpayers in general. He then offered a personal grievance by sharing an anecdote about apparently being passed over for promotion by a black co-worker–who he claimed doesn't work nearly as hard as himself.
A separate "White Lives Matter" rally was held in distant Murfreesboro, Tennessee–reportedly targeting the large immigrant community there. That rally was later canceled.
The Shelbyville rally ended without violence. One student protester, however, was arrested for disorderly conduct.
But while many activists showed up to counter the white nationalism and far-right ideology on display in Tennessee, perhaps conspicuously absent was Black Lives Matter. They released a statement ahead of the rallies which reads, in part:
Gatherings like what will occur in Shelbyville and Murfreesboro are used as scapegoats for institutions and white America at large; it becomes a chance to point fingers at the obvious racists. In reality, it is both the practice of overt and covert racism that makes these violent and hateful rallies of klansmen and neo-nazis possible. It is white America who invited them in and it is white America who has the responsibility to see them out.
[image via screengrab]
Follow Colin Kalmbacher on Twitter: @colinkalmbacher
Have a tip we should know? [email protected]