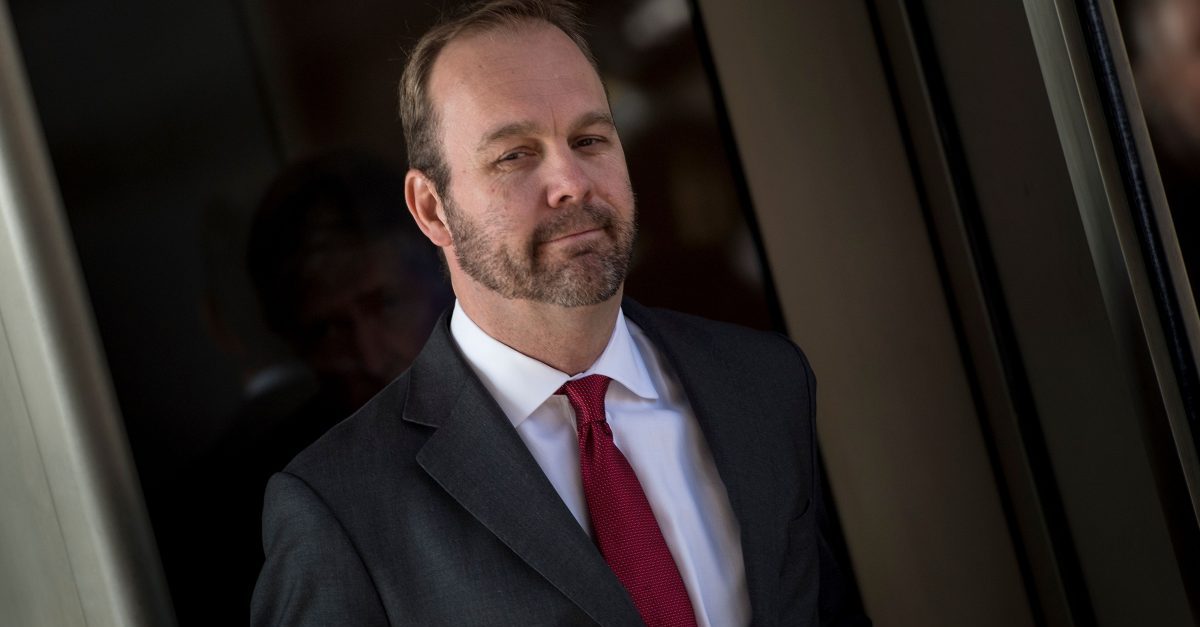 Rick Gates, the former Trump campaign deputy chairman, former Paul Manafort business associate and current cooperating witness for Special Counsel Robert Mueller and other prosecutors, will not be talking to Congress — yet. Gates's attorney Thomas Green said that this is how "various prosecution offices" have advised his client to proceed.
The comment from Team Gates comes days after Mueller filed in court to push back Gates' sentencing for at least another two months, because Gates continues to cooperate in "several ongoing investigations." The House Judiciary Committee recently contacted Gates and 80 other people or entities as part of its investigation into "alleged obstruction of justice, public corruption, and other abuses of power by President Trump, his associates, and members of his Administration."
These were some of the items the Committee asked Gates to hand over in document form:
Possible pardons for yourself, Paul Manafort, Michael Flynn, or Michael Cohen.

Any foreign government discussing, offering, or providing, or being solicited to discuss, offer, or provide, any present or emolument of any kind whatever on or after November 8, 2016 to Donald Trump or his Business Interests; Trump Organization; Jared Kushner or his Business Interests; Ivanka Trump or her Business Interests; or the 58th Presidential Inaugural Committee.

Trump Tower Moscow (also known as the "Moscow Project") or any other proposed or possible real estate development in the Russian Federation by Donald Trump or the Trump Organization from January 1, 2015 to the present.

Any contacts or communications relating to discussions or attempts to provide or receive election information, campaign data, or campaign communications between Trump Campaign vendors and foreign entities or individuals in connection with the 2016 U.S. Presidential primary or general elections. This includes, but is not limited to, voter data, polling information, political ad targeting, voter registration rolls, social media data, and campaign or party e-mails.

The June 9, 2016 Trump Tower meeting, including but not limited to contacts or communications about the meeting involving one or more of the following individuals: Donald Trump Jr., Natalia Veselnitskaya, Donald Trump, Paul Manafort, Jared Kushner, Emin Agalarov, Aras Agalarov, Rob Goldstone, etc.

Discussions of United States imposed sanctions or potential sanctions against the Russian Federation from June 16, 2015 to January 20, 2017 (including but not limited to the sanctions imposed pursuant to the Magnitsky Act) involving one or more of the following individuals: yourself, Donald Trump, the Trump Campaign, the Trump Organization, Paul Manafort, Michael Cohen, Michael Flynn, Jeff Sessions, Jared Kushner, Thomas Bossert, Roger Stone, etc.

Contacts between the Russian Federation and its officials, agents, intermediaries, etc.; contacts between Wikileaks and its officials, etc.; contacts between Manafort and Konstantin Kilimnik, Serhiy Lyovochkin, and/or Rinat Akhmetov.

The contents of meetings between President Trump and Vladimir Putin on July 7, 2017 and November 11, 2017.
These topics explain "various prosecution offices'" interest in Gates near-future plans.
As Law&Crime noted before, Gates is likely assisting with an investigation into President Donald Trump's inauguration. Gates, an admitted fraudster, was the Inaugural Committee's deputy chair, and federal prosecutors in Manhattan are reportedly investigating whether the 2017 Inauguration Committee misspent some of the $107 million raised from contributors. One aspect of this investigation is also said to concern allegations that donors gave money in exchange for access into and influence within the Trump administration.
Gates has also been a useful witness for Mueller in the cases against Gates's former associate Paul Manafort, particularly the Konstantin Kilimnik-Trump campaign polling data-Manafort connection.
Green told Politico that, though willing, Gates is currently not able to cooperate in the House Judiciary Committee's investigation into Trump. Green said that Gates could assist the investigation "in the coming months." Although this is by no means a specific timeline, it is notable that the lawyer for a witness in "several ongoing investigations," including the Mueller probe, is saying that the witness could possibly provide Congress with documents related to ongoing investigations in a matter of months.
"Having received input from the various prosecution offices, I have concluded that for the time being it is not in the interest of my client to provide testimony of documents to Congressional investigators," Green said. "Our position in this regard may well be different in the coming months."
[Image via Brendan SmialowskiI/AFP/Getty Images]
Have a tip we should know? [email protected]