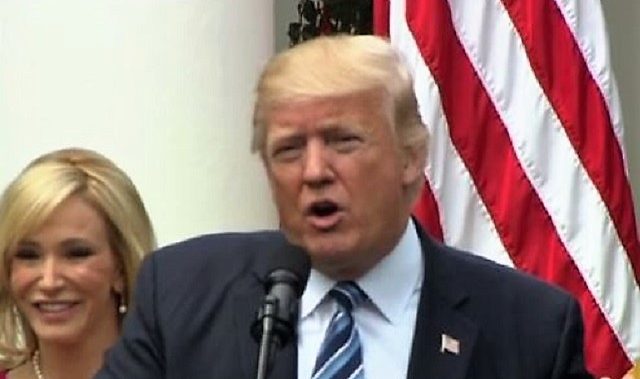 When President Donald Trump fired FBI Director James Comey on Tuesday, he made reference to not being under investigation, likely a reference to the probe of Russia's alleged activities that may have impacted November's election. In the letter, Trump said:
While I greatly appreciate you informing me, on three separate occasions, that I am not under investigation, I nevertheless concur with the judgment of the Department of Justice that you are not able to effectively lead the Bureau.
Vice President Mike Pence reiterated this claim Wednesday morning when discussing the probe into Russian actions.
While the President claims that he was informed by the then-Director of the FBI that he was not under investigation, a court filing by the DOJ last month seems to tell a different story. It all has to do with a Freedom of Information Act lawsuit brought by VICE News' Jason Leopold and MIT/Harvard transparency researcher  Ryan Shapiro. The lawsuit seeks records related to certain statements that Trump made during his campaign, including when he said in a public address, "Russia, if you're listening, I hope you're able to find the 30,000 emails that are missing." This was in reference to the controversy surrounding Hillary Clinton's private email system. At the time, President Trump dismissed his statement as an off-hand remark meant in jest.
In a joint status report filed with the U.S. District Court in Washington, D.C., the DOJ said that while they will work to respond to the FOIA request, they expect the FBI to claim that all of the responsive documents are exempt from being disclosed because they "could reasonably be expected to interfere with enforcement proceedings."
Well that's interesting.
How can Trump's statement (however serious it may or may not have been) about Russia looking for missing emails be related to "enforcement proceedings" if he's not under investigation? Even if Trump isn't being accused of wrongdoing, proceedings related to something he said would still seem to indicate that he's the subject of some sort of investigation. The FOIA request is specifically regarding Trump's own words. If records related to specific words are part of enforcement proceedings, it would stand to reason that those proceedings involve the person who spoke those words.
LawNewz.com reached out to the Justice Department for clarification, but they have not responded.
[Image via CNN screengrab]
Have a tip we should know? [email protected]