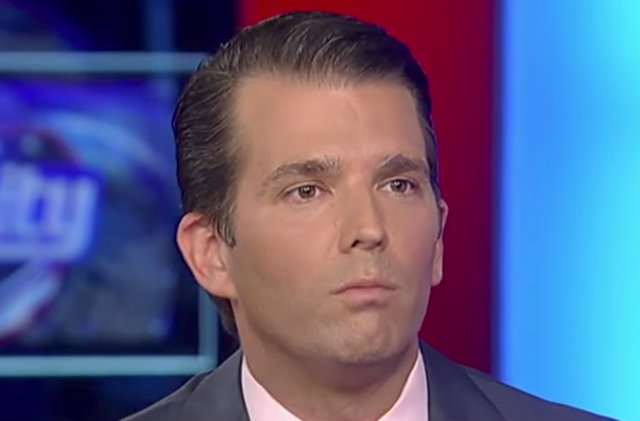 It turns out the Trump campaign paid Donald Trump, Jr.'s attorney Alan Futerfas weeks before it was revealed that Junior met with a Russian lawyer to get dirt on Hillary Clinton–and just days after Jared Kushner updated his security clearance form to include the meting.
A Federal Elections Commission filing released Saturday, first reported by The Daily Beast, shows the Trump campaign gave $50,000 to Futerfas' law firm for "legal consulting" on June 27. Weeks later, in a series of articles, The New York Times reported that Trump, Jr., Kushner, and others met with lawyer Natalia Veselnitskaya  at Trump Tower on June 9, 2016 to get harmful information on Clinton. Trump, Jr., later released emails showing that he was promised that this was part of the Russian government's support for his father's campaign. Futerfas was hired to represent him in this matter. He and his spokespeople left out this information from their intial explanations of the meeting.
Kushner, Senior Advisor to the President, updated his security clearance form on June 21, 2017 to include the meeting. A spokesperson told Yahoo News that the document initially omitted the incident because a staff hit the send button too soon.
LawNewz.com has reached out for comment to Futerfas and spokespeople for Trump, Jr.
The news comes amidst greater public scrutiny over the Trump campaign and its alleged collusion with Russia to win the 2016 presidential election. A special counsel and several Congressional committees are investigating.
[Screengrab via Fox News]
Have a tip we should know? [email protected]