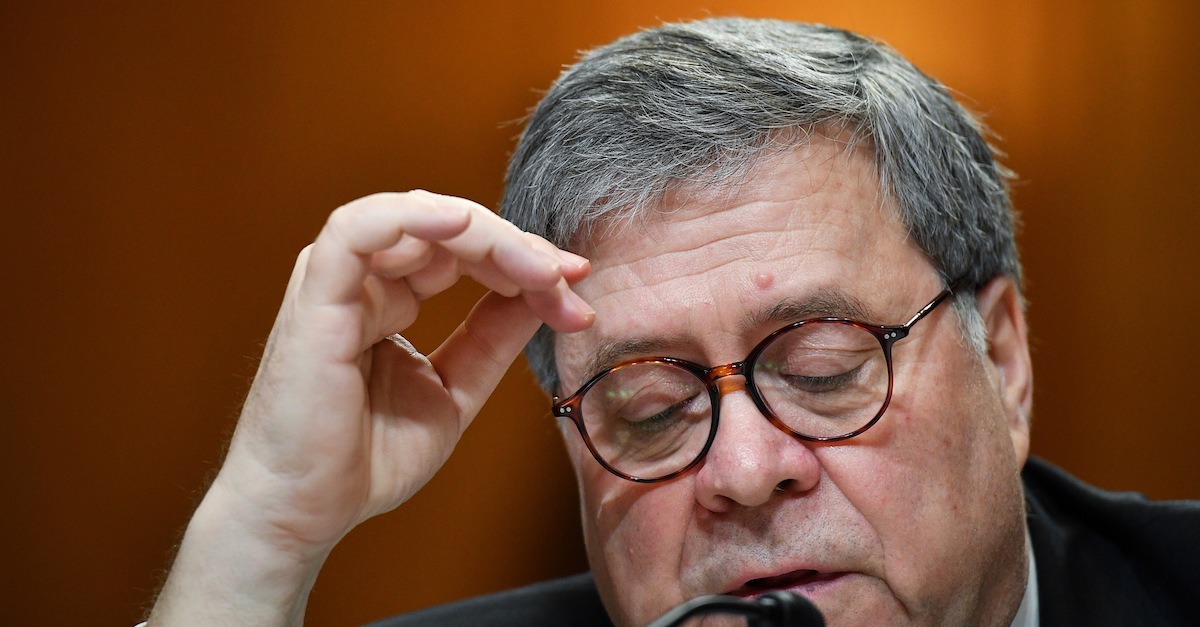 The cynics are out in force.
U.S. Attorney General William Barr has been a source of controversy, some of it his own making, ever since he took over for acting Attorney General Matthew Whitaker and took on the task of handling and redacting Special Counsel Robert Mueller's much-anticipated Russia report. In advance of anyone reading the redacted 400-page report, however, Barr and Deputy Attorney General Rod Rosenstein, the two men who determined that the evidence "wasn't sufficient" to prosecute President Donald Trump for obstruction of justice, will be speaking to the press.
"Attorney General William P. Barr will hold a press conference on Thursday, April 18, 2019 at 9:30 a.m. EDT, on the release of the Mueller Report," the Justice Department announced.
It seems many have already made up their minds about the purpose of the presser. The overarching theme of the criticism is that Barr is doing this to get out in front of the political nightmare contained within the report.
I can't think of any reason Barr needs to hold a press conference to discuss a report Mueller wrote. He needs to get out of the way. https://t.co/gJbazzL8sO

— Matthew Miller (@matthewamiller) April 17, 2019
Barr is providing additional fodder for his own impeachment by holding a press conference. https://t.co/IWrTvz8Kw7

— Cheri Jacobus (@CheriJacobus) April 17, 2019
https://twitter.com/Amy_Siskind/status/1118615997748056070
BREAKING: Barr will hold a press conference tomorrow at 9:30 AM EST. Part of me wonders if he will announce an investigation into the investigation. Or perhaps another investigation into Hillary's emails.

— Mueller, She Wrote Podcast (@MuellerSheWrote) April 17, 2019
BREAKING: AG Barr will hold 9:30am press conference tomorrow with Rosenstein to discuss the release of the redacted Mueller report. No one wants to hear from them. How about they just release the fricking report? Enough with the games and pro-Trump propaganda. Release the report.

— Scott Dworkin (@funder) April 17, 2019
Wondering if Barr will wear his red hat to the press conference

— Adam Parkhomenko (@AdamParkhomenko) April 17, 2019
Confession: Even the thought of William Barr giving a press conference at 9:30 a.m. fills me with disgust. His job is obstruction of justice and yet he will appear with the trappings of the high and honorable office he is now defiling and lie to his bosses, the American people.

— David Rothkopf (@djrothkopf) April 17, 2019
Seems a bit off — and yet par (Barr?) for the course. https://t.co/eVL2iTj7V9

— Chris Geidner (@chrisgeidner) April 17, 2019
bill barr will take questions tomorrow about a report he redacted that no one has read

— Cristian Farias (@cristianafarias) April 17, 2019
This is bad, as it suggests Barr will again say or do something to prove that he is essentially a marketing stooge for the Trump administration. After Comey's disastrous mid-2016 press conference on Clinton, think how *committed* Barr must be to being a flack to agree to do this. https://t.co/Z3CgKAjp1W

— Seth Abramson (@SethAbramson) April 17, 2019
There is absolutely no reason for Barr to be holding a press conference to take questions on a report no one has yet had a chance to read and digest. This is stupid.

— Bradley P. Moss (@BradMossEsq) April 17, 2019
.@JuliaEAinsley: "Is this press conference a way for Barr to get out ahead of any info that we might find in the report and put his spin on it and put a spin on it that's favorable for the president before the public has had a chance to really digest what's in the report?" @MSNBC

— Kyle Griffin (@kylegriffin1) April 17, 2019
President Trump then teased a presser of his own.
"Maybe I'll do one after that, we'll see," he said. Trump also predicted that "a lot of strong things [will] come out tomorrow." It's been pointed out that Trump announced the presser before Barr did.
Interesting that Trump announced this press conference before DOJ did. https://t.co/x22kXnSRD1

— Natasha Bertrand (@NatashaBertrand) April 17, 2019
Democratic lawmakers and constituents are already wary of Barr, considering that he submitted his "unsolicited" thoughts on Mueller's obstruction investigation to say that the "specific obstruction-of-justice theory" being talked about was "fatally misconceived." Barr was quickly invited to lunch, Jeff Sessions "resigned" months later, the aforementioned Whitaker replaced Sessions. After all of that, Barr ended up being the person in charge of redacting Mueller's report and releasing the special counsel's findings to the world.
[Image via Mandel Ngan/AFP/Getty Images]
Have a tip we should know? [email protected]