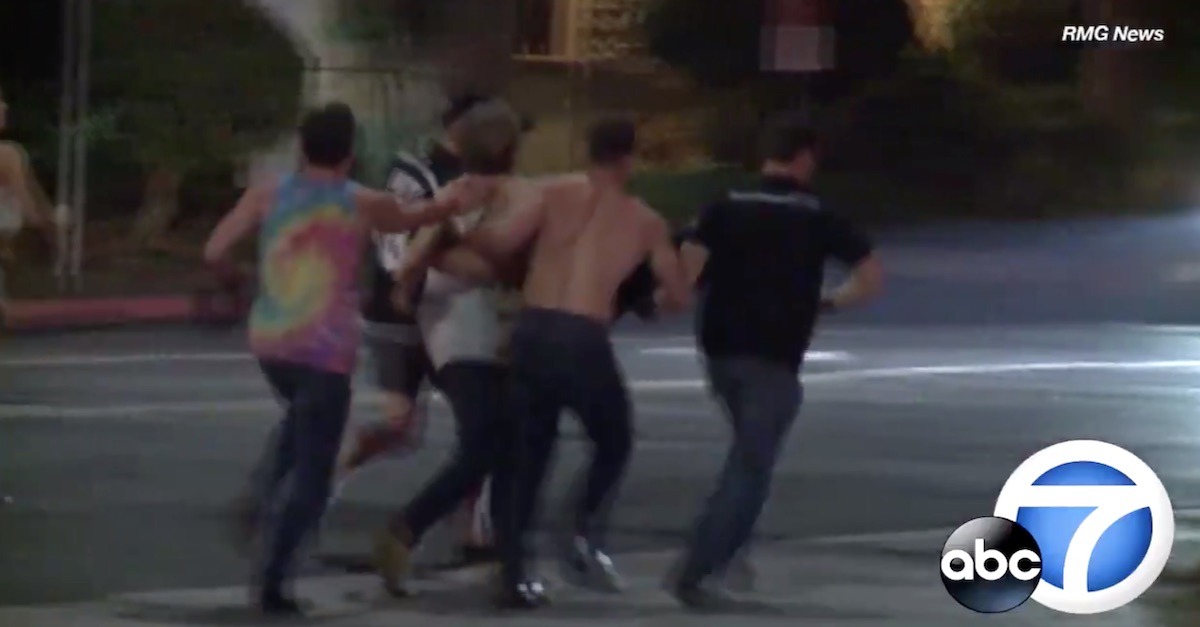 Authorities have identified the man who killed 12 people Wednesday night at the Borderline Bar & Grill in Thousand Oaks, Calif. News that police had identified the mass murderer was released shortly before 8 a.m. EST, but there was still no name released. Now NBC News reports that the shooter has been identified as Ian Long, 28.
BREAKING: Calif. bar mass shooting suspect identified as Ian Long, 29, several law enforcement officials tell @NBCNews – @PeteWilliamsNBC https://t.co/D4sKv3IUVD

— NBC News (@NBCNews) November 8, 2018
Clarifying reports said the shooter's full name was David Ian Long, but that he went by Ian.
Sources tell @abc the suspected shooter has been ID'd as David Ian Long. Neighbors say he went by the name Ian. Via: @PierreTABC @JoshMargolin @AaronKatersky @JackDate https://t.co/1ECA0mc7V0

— Mike Levine (@MLevineReports) November 8, 2018
Ventura County Sheriff Geoff Dean identified the shooter as Ian David Long.
Ventura County sheriff says #Borderlineshooting suspect name is Ian David Long. He used a Glock-21 .45 caliber handgun with an extended magazine. No info on motive at this point.

Long had contact with a police crisis intervention team last April. pic.twitter.com/yf0zBvKwY2

— Aaron Rupar (@atrupar) November 8, 2018
Dean say they have had "several contacts" with Long over the years, including an incident dating back to April when he was "irate" and acting irrationally. Police determined that he could not be taken "under 5150" (Detention of Mentally Disordered Persons for Evaluation and Treatment). Medically experts cleared him that day.
Long was a veteran who served in the United States Marine Corps. Police say he was 28.
Police have confirmed that weapon was a Glock 21 .45 caliber handgun. This weapon had an extended magazine, police say. The weapon was legally purchased.
A neighbor told ABC7 that Long said he was a veteran who had PTSD. "I don't know what he was doing with a gun," the neighbor said.
At around 11:20 p.m.. the gunman killed burst through the door and started shooting. He reportedly also deployed a smoke device.  Twelve people were killed and at least another 10 were injured. Two people were taken to the hospital by ambulance, while 18 others drove themselves to the hospital.
The gunman was also killed. There are reports that he shot himself, but these have not yet been confirmed. We are still waiting for the victims to be identified.
Early reports did say that he was a 29-year-old white male who was wearing a mask, a trench coat, all black clothing and was wielding a .45 caliber handgun. Witnesses said he shot an unarmed security guard at the door and continued shooting anyone he could.
Gunman was a 29 year old white male w .45 caliber handgun and smoke device in #borderline mass shooting

— Richard Winton (@LAcrimes) November 8, 2018
Teylor Whittler was one of the students there celebrating her 21st birthday. She described the shooter as a "taller man with a gun shooting multiple people."
"I went with 11 friends, so far we've only found six of them," she said. "We don't know where the other ones are, we don't know if they're OK or not."
Whittler, born into a military family, said that it appeared the mass shooter was well-trained.
"As soon as he walked in he had perfect form," she said. "He looked like he knew what he was doing."
The country-western dance bar is a popular destination for college students in the area on Wednesday nights. It has a 2,500-square-foot dance floor.
One of the victims has been identified as Ventura County Sheriff's Sgt. Ron Helus, a 29-year veteran on the force, a husband and a father. Helus had planned on retiring. According to the Los Angeles Times, Helus called his family before he went in.
Sgt. Ron Helus. 29 year VCSO veteran. Set to retire next year. Died trying to save the lives of 100+ people. Died a hero. #ThousandOaks #Borderline pic.twitter.com/9fUBEwXFeN

— VCscanner (@VCscanner) November 8, 2018
Sheriff Dean said the scene was "horrific" and that there was "blood everywhere."
Dean said that Helus "died a hero."
"Ron was a hardworking dedicated sheriff's sergeant. He was totally committed, he gave his all and tonight, as I told his wife, he died a hero; he went in to save lives, to save other people," he said, choking up over Helus' death.
"He died a hero": Sheriff remembers fallen Sheriff Sgt. Ron Helus in the Thousand Oaks shooting. https://t.co/rq3tYTFyuo #Borderline #Californiashooting #Massshooting pic.twitter.com/nMSQgrTGFI

— USA TODAY (@USATODAY) November 8, 2018
President Donald Trump said that he has been briefed on the shooting and praised the bravery of police.
I have been fully briefed on the terrible shooting in California. Law Enforcement and First Responders, together with the FBI, are on scene. 13 people, at this time, have been reported dead. Likewise, the shooter is dead, along with the first police officer to enter the bar….

— Donald J. Trump (@realDonaldTrump) November 8, 2018
….Great bravery shown by police. California Highway Patrol was on scene within 3 minutes, with first officer to enter shot numerous times. That Sheriff's Sergeant died in the hospital. God bless all of the victims and families of the victims. Thank you to Law Enforcement.

— Donald J. Trump (@realDonaldTrump) November 8, 2018
Many college students were there with their friends last night, some celebrating 21st birthdays. People frantically smashed windows to escape. Matt Wennerstrom saved many lives by smashing windows and bringing people to safety.
This mass shooting occurs not long after shootings at a yoga studio in Tallahassee and the Tree of Life Synagogue in Pittsburgh. 
[Image via ABC7 screengrab]
Have a tip we should know? [email protected]