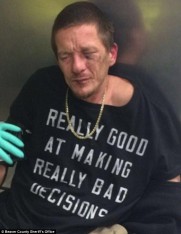 According to the police report, officers responded to the Sheetz station and discovered Michael Emrick sitting in what was thought to be a stolen pickup truck.  Emrick disobeyed several commands to exit the vehicle and backed out of the parking space when he clipped Officer Juan Villagomez with the side mirror, causing Vilagomez's gear to become tangled with the stolen vehicle, according to police statements.
Emrick then threw the truck in gear, slammed down the accelerator and dragged  Villagomez a short distance until the tangled straps broke and he was  "thrown violently to the ground," while Emrick continued to flee in the stolen vehicle, according to the police reports.
As some officers checked on Villagomez, additional units chased Emrick for about 15 minutes, mostly off road, though fields and over private properties.  Local reports say the chase ended in Frank Roppo's back yard after Emrick crashed the truck into Roppo's shed.  He was apprehended on foot a few moments later.
Emerick is charged with aggravated-assault, reckless endangerment, receiving stolen property, criminal mischief, fleeing and eluding police officer, resisting arrest, driving with a suspended license and retail theft.  He was booked in Beaver County Jail, where he remains jailed after he failed to post $50,000 bond, according to court records.
[h/t WPIX ; image via Beaver County Sheriff's Department]
Have a tip we should know? [email protected]