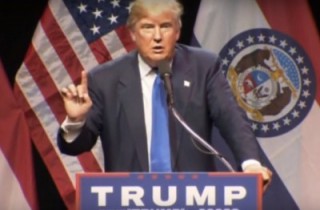 Lawyer Gloria Allred has said she'd represent the women who claim Donald Trump touched them sexually without consent.
"If any women who are making allegations of inappropriate [conduct] contact me, I would be happy to speak to them and then decide if I would be able to represent them," she told POLITICO in a Thursday report. Allred is known for taking high-profile cases usually linked to sexual harassment, sexual assault, and gender discrimination
David Brock, founder of the pro-Hillary Clinton Super PAC "Correct the Record," also told the outlet that he was willing to help bankroll any legal defense for the women. (In case you literally came from Mars: Clinton, like Trump, is running for president.)
"We would pay for the legal defense of Trump accusers," Brock, who presides over a constellation of pro-Hillary Clinton political groups, told POLITICO on Thursday.
This is part of the aftermath from three separate media reports published Wednesday. Four women said Trump touched them sexually without consent in various incidents over the years.
Jessica Leeds told The New York Times that Trump groped her up her skirt. Rachel Crooks said she was kissed.
Mindy McGillivray told The Palm Beach that Trump groped her.
PEOPLE Magazine writer Natasha Stoynoff said that Trump kissed her.
And legal fallout is quite possible. Trump attorney Mark Kasowitz has already threatened a lawsuit against The Times unless the paper takes down their article.
"Your article is reckless, defamatory and constitutes libel per se," he wrote in a cease-and-desist letter. "It is apparent from, among other things, the timing of the article, that it is nothing more than a politically-motivated effort to defeat Mr. Trump's candidacy."
And as for the women themselves:
"NYT editors, reporters, politically motivated accusers better lawyer up," an unnamed Trump campaign official reportedly told CNN.
It's unclear what sort of legal action the women or the other outlets might actually face. We've reached out to Kasowitz for more information.
Trump is the Republican Party nominee for president. To be generous, his campaign has been dealing with damage control since Friday. The Washington Post published 2005 video in which he said he kissed women and grabbed their private parts without consent. This has gotten a lot of media attention, in part, because the action described can meet legal definitions of sexual assault.
During a presidential debate on Sunday, he denied touching women without consent: "No, I have not," he said in response to a question from host Anderson Cooper.
[Screengrab via Right Side Broadcasting]
–
Follow Alberto Luperon on Twitter (@Alberto Luperon)
Have a tip we should know? [email protected]