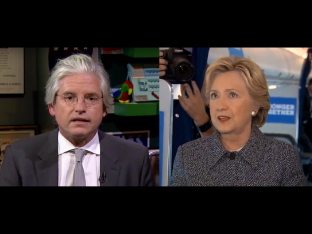 A recently filed complaint with the Federal Elections Commission accused Hillary Clinton's campaign of illegally coordinating with David Brock's super PAC, Correct the Record (CTR). The complaint, filed by the Campaign Legal Center (CLC), alleged that the Clinton campaign has received nearly $6 million in illegal contributions from CTR in the form of coordinated expenditures. The Clinton campaign and CTR maintain that the coordination is permitted under a narrow reading of a 2006 FEC ruling that exempted some forms of online content from regulation ("internet exception").  However, newly released emails from Wikileaks suggest the coordination goes far beyond any reasonable interpretation of the 2006 ruling.
In one email chain from October 2015, Clinton campaign staffers are discussing a way to fight back against fundraising effort by former Republican presidential candidate Marco Rubio.  The Rubio fundraising campaign used a quote from controversial author Ed Klein's book that had Bill Clinton saying Hillary feared running against Rubio.  The leaked emails show the Clinton campaign believed the quote was fabricated and wanted to shame Rubio for using it.
"I think there's a way to do this where someone can go after Ed Klein, approach this from an angle, and knock it down as shameful," Clinton campaign spokesman Nick Merrill wrote.
Christina Reynolds, a Clinton campaign deputy communications director, responded, "I'm sure Brock and team would love to go at him. Nick, want me to put you in touch with them?"
Reynolds is referring to David Brock, the founder of the Correct the Record super PAC.
Shortly thereafter, another Clinton campaign communication's staffer named Karen Finney wrote, "I can reach out to David."
Under campaign finance law, a coordinated expenditure is an expenditure made at the request or suggestion of the campaign or its agent.
As you can see, the emails appear to show the campaign asking CTR to handle the research and response to the Rubio issue.  It is likely that Correct the Record spent money to complete the requested task, which would be considered a prohibited in-kind contribution under he law.
Brendan Fischer, of the Campaign Legal Center, told LawNewz.com that this exchange "affirm[s] what we argued in our complaint, that the vast majority of Correct the Record's expenditures are not for internet activities at all, and thus do not fall under the so-called 'internet exception.'"
The internet exception, Fischer says, was meant to cover small blogs, not multi-million dollar political operations like CTR.
"Correct the Record is conducting opposition research, pitching reporters, and contracting with firms to prepare surrogates for TV interviews, none of which is even remotely analogous to the blogging activities covered by the 'internet exception,'" Fischer explained.
Furthermore, he said, "Because Correct the Record is effectively an arm of the Clinton campaign, $500,000 contributions to Correct the Record are indistinguishable from $500,000 contributions directly to Clinton, and pose the same risk of corruption and excessive influence."
If this is allowed to continue, Fischer believes the problem of super PACs effectively operating as arms of major political campaigns will only get worse.
"[I]t is important to note that if the Clinton campaign successfully opens this loophole, it will certainly be exploited by other candidates and billionaires, further tilting our political system in favor of wealthy interests," he said.
It will ultimately be up to the FEC to take action and enforce the rules as they are currently written, Fischer said.  Unless and until that happens, campaigns and super PACS are likely to only become more brazen in the willingness to flaunt campaign finance laws.
Have a tip we should know? [email protected]