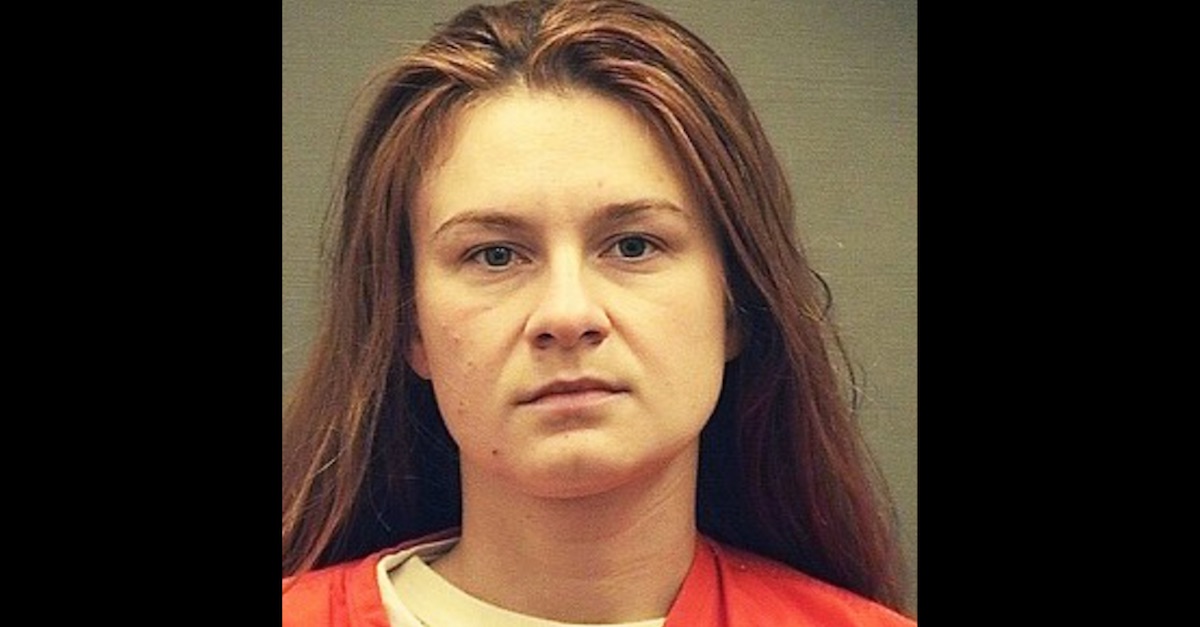 The lawyer for accused Russian agent Mariia "Maria" Butina is mad as heck and isn't going to take it anymore, it seems.
Robert Driscoll was none too pleased that federal prosecutors buried on page 19 of a "near midnight" filing on Saturday the fact that they were wrong when they said Butina offered sex "in exchange for a position with a public interest organization."
Driscoll responded on Sunday evening, saying that the government's filing was an "extraordinary document that reeks of desperation."
"On page 19 of a 22-page brief filed near midnight, the government shamelessly admits it had no factual basis for a proffer made in court that Maria Butina 'offered . . . sex' in exchange for a position with a public interest organization," he said.
He added in a footnote that the government's focus on Butina's sex life has "gone too far and transformed into an irrelevant obsession."
In particular, Driscoll said the government has also done nothing to prove Butina's relationship with Republican operative Paul Erickson was transactional in nature. It had been suggested that Butina used sex to gain access to Erickson's deep National Rifle Association ties.
"Whatever the reason, it is nothing short of cowardice to make false proffers to much fanfare only to deny them later in a mere sentence or footnote," Driscoll said.
Here is the paragraph from the government filing that incited Driscoll's ire:
Following the detention hearing, the defense has disputed the assertion in the government's memorandum in support of pretrial detention that the defendant offered sex in exchange "for a position with a special interest organization." That statement was based both on a series of text messages between the defendant and another individual, "DK" and other information about the relationship between the defendant and DK gained through a review of additional communications between them. Even granting that the government's understanding of this particular text conversation was mistaken, other communications and materials in the government's possession (and produced to the defense) call into doubt the defendant's claim that her relationship with U.S. Person 1 is a sufficiently strong tie to ensure her appearance in court to face the charges against her if she is released.
Let's translate this out of legalese and into English: Even though we were wrong when we interpreted these texts between Butina and "DK" to mean sex for power was happening, she's still not close enough to the person to ensure she'll stick around to face trial.
Butina has been held at the Alexandria Detention Center, where convicted felon Paul Manafort is also locked up.
Driscoll maintains that the "bottom line" is that the prosecutors have a "legally and factually weak case based upon an esoteric theory brought against young woman, who is trying to start a life in America, not an intelligence agent, and has demonstrated that she is not a flight risk."
"She should be released pending trial," he added.
Butina is charged with conspiracy to act as a foreign agent, and faces up to five years in prison and a $250,000 fine.
[Image via mugshot from the Alexandria Detention Center.]
Have a tip we should know? [email protected]