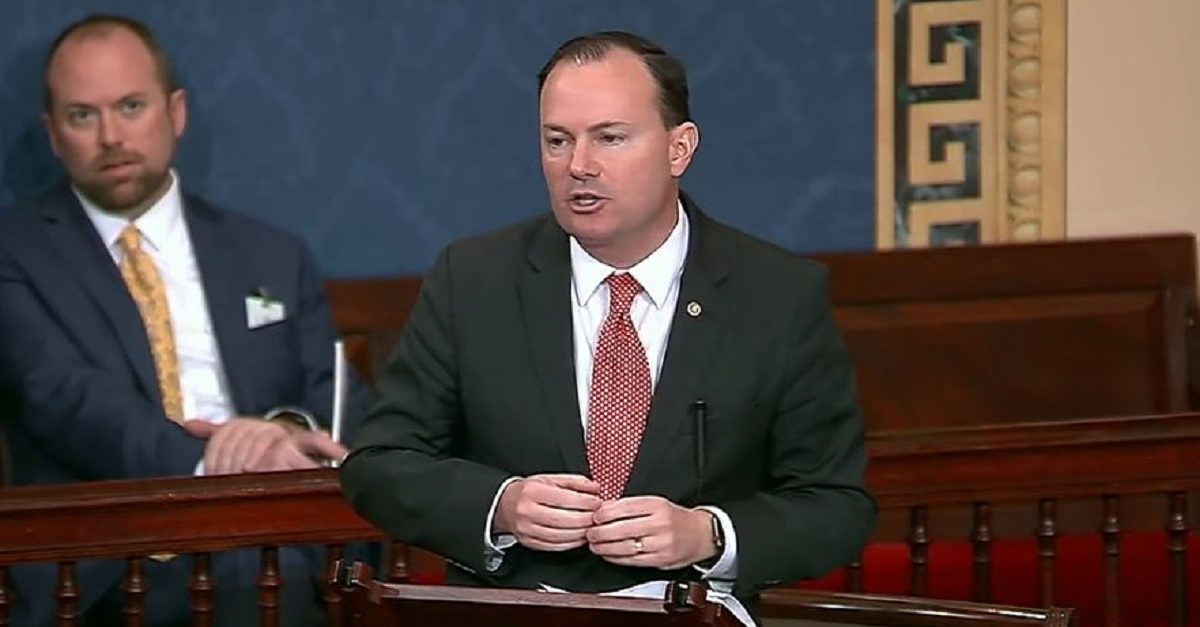 The knives are out Friday in Washington, D.C., where an anonymous DOJ official called Sen. Mike Lee (R-Utah) a "moron" due to his reported opposition to the nomination of Jessie Liu to the no. 3 position at the Department of Justice. The "moron" remark was reported in the same breath as the report of a "shouting match" between Attorney General William Barr and Sen. Lee over Liu's conservative bonafides.
Sen. Lee, who was previously considered a possible Trump nominee to the Supreme Court, and other congressional Republicans were reportedly uneasy when it came to Liu's stance on issues like abortion.
Law&Crime reached out to Sen. Lee's office for comment about both the reported "shouting match" and the "moron" insult. They did not have a response to the latter. As for the "shouting match" report, they didn't have anything to add to it.
The "shouting match" report from NPR, citing attorneys familiar with the situation, said there were concerns Liu may be too pro-choice and would not be in favor of abortion restrictions. Another reported sticking point has been her past involvement with the National Association of Women Lawyers. That organization had opposed the nomination of conservative Supreme Court Justice Samuel Alito. Liu had signed her name to a letter from Yale Law School alumni in support of Alito's confirmation.
Liu will remain in her post as the U.S. Attorney for the District of Columbia. Barr also announced that she will lead the Attorney General's Advisory Committee of United States Attorneys.
"Today, I am pleased to announce that I am appointing Jessie Liu as chairwoman of the Attorney General's Advisory Committee of United States Attorneys (AGAC).  Jessie Liu, an outstanding attorney with broad experience, is widely-respected, within the Department," Barr said in a statement.
"She currently leads more than 300 prosecutors at our nation's largest U.S. Attorney's office. Jessie will be an integral part of our leadership at the Department.  We will all benefit from her universally-regarded expertise and dedication to public service," he added.
Law&Crime has explored Liu's qualifications before.
Ronn Blitzer contributed to this report.
[Image via NBC screengrab]
Have a tip we should know? [email protected]