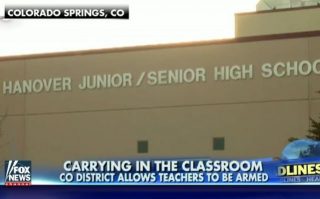 Exactly four years after the shooting at Sandy Hook Elementary School in Newtown, Connecticut claimed the lives of 20 students and six staff members, the Hanover School District in Colorado voted in favor of allowing teachers to carry guns on school grounds.
The resolution says, "in light of the recent incidents nationally, the Board has determined that it is in the best interest of the District, … to provide trained security personnel within the District to intervene if deadly violence occurs or is threatened[.]" Because of budgetary constraints, the district will select current staff members to become "school security officers."
The biggest reason for the decision, according to local KRDO-TV, is concern that it would take too long for police to respond to an emergency. The new resolution calls for staff members to carry firearms while working, if they are selected as school security officers. They would have to go through gun safety training and get a concealed carry permit before being armed at school.
"A lot of the staff I wouldn't trust with a gun. They have anger issues," one opponent of the policy told Fox News. A supporter told KRDO, "there's nothing wrong with being prepared."
The resolution passed 3-2, even though the school board president was against it.
[Image via Fox News screengrab]
Have a tip we should know? [email protected]