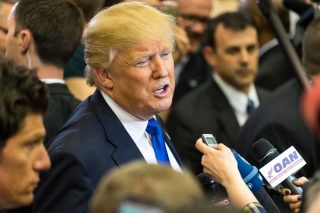 President-elect Donald Trump ended three business contracts in foreign countries, CNN reported on Thursday.
According to correspondent Drew Griffin, Trump lawyer Alan Garten said two projects were canceled in Rio de Janiero. A third building project in Azerbaijan has also been "separated" from the Trump Organization. Garten described the process as "housecleaning."
Concerns about conflict-of-interest have followed him since before the November 8 election. He said he'd hand off management of his business empire to his children, but that fell short of actual divestment. Questions about his assets, including investments, abounded after the election: his financial tie to the Dakota Access Pipeline, possibly violating a lease agreement when he takes office, a debatable violation of the emoluments clause, and the possibility that he leaves himself open to impeachment.
Trump had announced a press conference for this week, in which he'd explain how he was "leaving" his businesses to become president. But that's been postponed for an unspecified date in January.
Update – December 15, 6:04 p.m.: Added more information on the canceled press conference.
[image via Stock Photo World and Shutterstock]
Have a tip we should know? [email protected]