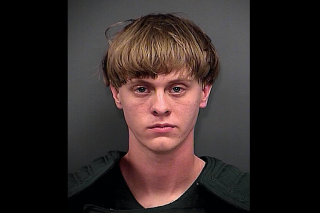 On Thursday, a federal jury convicted Dylann Roof in the deaths of nine black people.
The 22-year-old opened fire at the Emanuel African Methodist Episcopal Church in Charleston, South Carolina on June 17, 2015. In a videotaped confession shown to the jury, he said he did it because he believed black people were terrorizing white people.
It has been an emotionally charged trial.
Witness Felicia Sanders said in court that she saw Roof gun down her nephew and aunt. "He's evil," she said on December 8. "There's no place on earth for him except the pit of hell."
The defense team actually admitted his guilt in the opening statement, but they were trying to keep him from the death penalty. They called no witnesses after the judge ruled they couldn't give evidence that he was mentally ill.
In closing, David Bruck suggests #DylannRoof delusional, a loner influenced by online racist rants. @postandcourier

— Jennifer Berry Hawes (@JenBerryHawes) December 15, 2016
Prosecutors urge jurors "don't be distracted" by idea #DylannRoof mentally ill, argue he knew well what he did, articulated violent racism

— Jennifer Berry Hawes (@JenBerryHawes) December 15, 2016
It took a Charleston jury two hours to find #DylannRoof guilty of murdering nine people at Emanual AME Church. @wyffnews4

— Tim Waller (@timwallerWYFF) December 15, 2016
Roof was found guilty on all 33 federal counts, including murder and hate crime charges. He faces the death penalty, and that phase, in which he will defend himself, is scheduled to begin January 3. He also faces a state trial in connection to the incident. It's scheduled to begin in January, and prosecutors in that case also seek the death penalty. LawNewz.com will be providing a livestream of that trial when it begins. This is a breaking news story, we will post more details as we get them. 
Update – December 15, 3:52 pm: This article was originally published stating that Roof was sentenced to death. That is incorrect. Penalty phase of the trial is scheduled for January 3.
Have a tip we should know? [email protected]