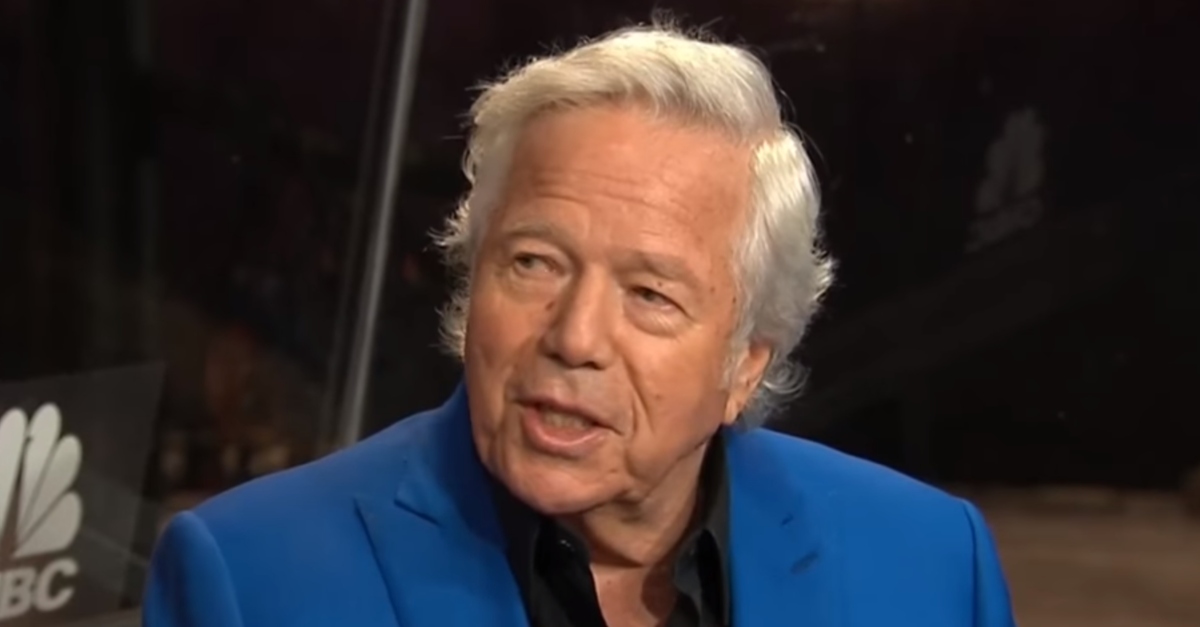 The only thing Robert Kraft has to do now is admit they could have proven he was guilty at trial.
Prosecutors are reportedly dangling a deal that would enable Kraft and the many others arrested for allegedly soliciting prostitution at the Orchids of Asia Day Spa in Jupiter, Florida to have their charges dropped. Authorities were investigating the spa in connection with an international human trafficking ring, allegedly spanning as far as China.
Kraft has in recent days hired top GOP lawyer William "Bill" Burck and attorney Jack Goldberger to defend him in this case. Goldberger is a Florida attorney who represented billionaire pedophile Jeffrey Epstein. It was not immediately clear whether they would argue there were Fourth Amendment concerns with Kraft's arrest or make another argument.
The Wall Street Journal is now reporting that prosecutors are putting a deal on the table that says the defendants have to admit they would have been proven guilty at trial. In Kraft's case, such a stipulation could prove to be quite awkward when you consider that he has all along denied wrongdoing.
The defendants would also have to take a course to get educated about prostitution, do 100 hours of community service, and get screened for STDs. Investigators claim that Kraft entered a spa in Jupiter, Florida on January 19 and 20. There, he and a woman engaged in a sex act in at least the second visit and there's video proof, prosecutors said.
An admission that trial would result in a guilty verdict is an interesting condition. If Kraft were to accept a deal, whether this one or another one like it, he could in all likelihood also face discipline from the NFL. If he doesn't accept a deal, he could face 60 days in jail and a $500 fine if convicted. Kraft is facing misdemeanor solicitation of prostitution charges and has pleaded not guilty.
Someone familiar with the matter confirmed to Law&Crime that the deal has been offered. It's not clear at the time if Kraft would accept it.
[Image via CNBC screengrab]
Have a tip we should know? [email protected]