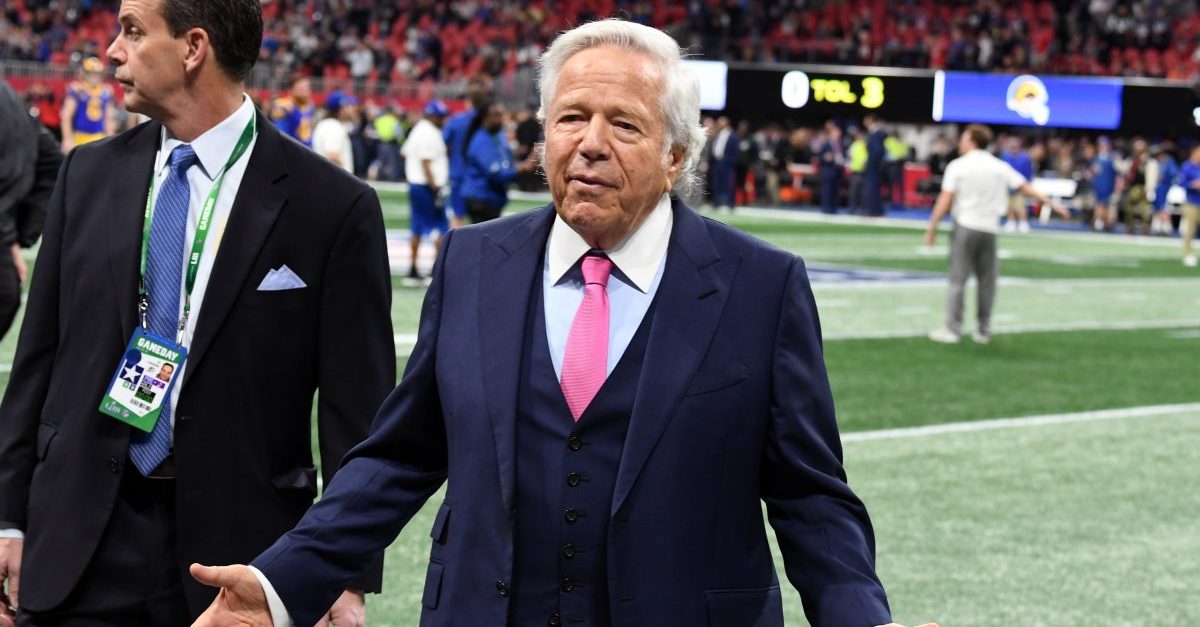 New England Patriots owner Robert Kraft has been implicated in a prostitution case, with a warrant being issued for his arrest on suspicion of illegally soliciting sex acts at a Florida spa. Police say there is video evidence against Kraft, which could spell trouble for him in a criminal case. The judicial system, however, isn't the only worry for the owner of the current Super Bowl champions, as he could face significant discipline from the NFL.
The NFL's Constitution and Bylaws allows the league commissioner to hire legal counsel to address conduct detrimental to the league. The rules allow the commissioner to issue a fine of up to $500,000 for violations. They also say that if the commissioner thinks that's not enough to punish the billionaire owner, he can go to the Executive Committee for additional penalties that can be as severe as "[c]ancellation or forfeiture of the franchise in the League of any member club involved or implicated," meaning "the affected franchise shall be sold and disposed of[.]"
Given the position that Kraft and the Patriots have in the league, it would be a bold move for Commissioner Roger Goodell to throw the book at him. It is also highly unlikely, given how Goodell has handled other disciplinary cases. In 2014, Indianapolis Colts owner Jim Irsay received a six-game suspension for driving while impaired. Kraft could also receive such a suspension.
The Executive Committee has the power to "impose such other or additional discipline or punishment as it may decide." That could include a loss of draft picks for the organization. As you may remember, the Patriots lost draft picks after an investigation of the "Deflategate" scandal, in which they were accused of letting air out of balls to below regulation levels.
Once the Committee makes a decision, it's final if it's approved "by the affirmative vote of no less than three-fourths or 20, whichever is greater, of the members of the League[.]"
Goodell may be inclined to take a strong approach in this case, given that the women involved were allegedly victims of sex trafficking. The league has faced criticism for how it's handled other matters involving female victims, such as the Ray Rice domestic violence case. The commissioner went on record in Irsay's case that not only to league standards of conduct apply to owners as well as players, but that even more is expected of those in charge.
"I have stated on numerous occasions that owners, management personnel and coaches must be held to a higher standard than players," Goodell said.
Kraft denied the allegations through a spokesman.
"We categorically deny that Mr. Kraft engaged in any illegal activity. Because it is a judicial matter, we will not be commenting further," the statement said.
[Image via Kevin Winter/Getty Images]
Have a tip we should know? [email protected]ndcrime.com