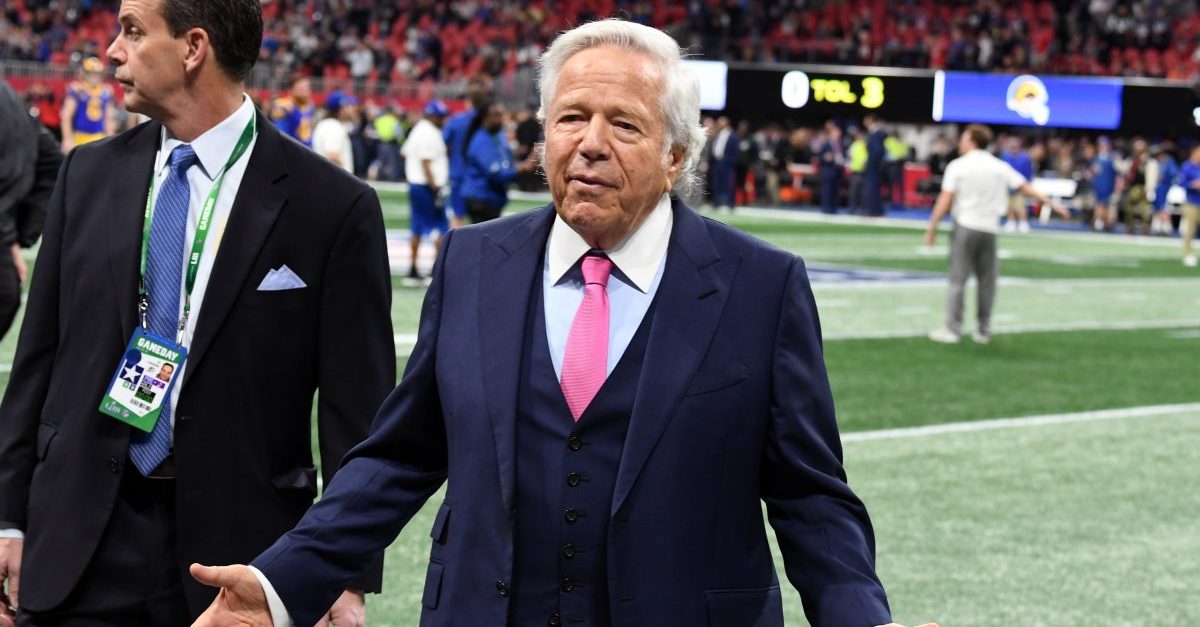 We already knew that New England Patriots owner Robert Kraft was going to fight two misdemeanor solicitation of prostitution charges in Florida, but now we know who is going to be doing the fighting for him. William "Bill" Burck, co-managing partner at Quinn Emanuel Urquhart & Sullivan law firm, brings with him a wealth of experience, whether as a former federal prosecutor or as an attorney for Republican bigwigs.
Burck, a D.C.-based attorney, will join Kraft's legal team. The team already has attorney Jack Goldberger on it. Goldberger is a Florida attorney who represented billionaire pedophile Jeffrey Epstein.
Burck's bio highlights some of his political experience. He once served as Special Counsel and Deputy Counsel to George W. Bush. When in the White House, he said, he "provided legal advice to the President and senior White House officials on a wide range of issues, including congressional and other government investigations, national security and foreign affairs, the financial crisis of 2008 and complex constitutional questions"
As we mentioned in the opening, Burck also made a name for himself as a Assistant U.S. Attorney in the Southern District of New York. He was involved in the prosecution of Martha Stewart.
Burck once worked as a law clerk for now-retired Supreme Court Justice Anthony Kennedy. He also worked as a law clerk for U.S. Appellate Judge Alex Kozinski. Kozinski retired in Dec. 2017 after being accused by several women of sexual harassment. Incidentally, Burck's friend, Supreme Court Justice Brett Kavanaugh, once clerked for Kozinski. The question was asked during confirmation hearings whether Kavanaugh, who himself was accused of sexual misconduct, knew about Kozinski's behavior.
This brings us to the next connection: Democrats raised alarm bells about Burck in Sept. 2018 because he was brought in to vet Kavanaugh documents:
Democrats have also questioned why Burck — a private attorney as well as a very politically charged figure — has now been authorized to analyze and filter through all of Kavanaugh's former White House records, documents that could include damning evidence about the nominee's involvement in decisions on wiretapping, torture, and the detention of enemy combatants.
The scrutiny was turned up on Burck not just for this, but for his representation of Trump White House officials during the ongoing Russia investigation. He represents former White House counsel Don McGahn, former Trump chief of staff Reince Priebus, and Steve Bannon.
The Associated Press ran an ominous headline on Burck in Sept. 2018: "GOP lawyer caught in crossfire on Kavanaugh, Russia probe."
Democrats called Burck "triply-conflicted"; the AP said Democrats complained that Burck was behind an "unusual and potentially precedent-setting arrangement to expedite the gathering of Kavanaugh's government records before Senate confirmation hearings."
When asked about those concerns, Burck simply said, "I think partisanship may be getting in the way of rational thought."
Burck's confirmed representation of Kraft comes exactly three weeks before a scheduled March 27 arraignment. Kraft has denied all allegations of wrongdoing.
Law&Crime has reached out to Burck for comment on this development.
[Image via Kevin Winter/Getty Images]
Have a tip we should know? [email protected]