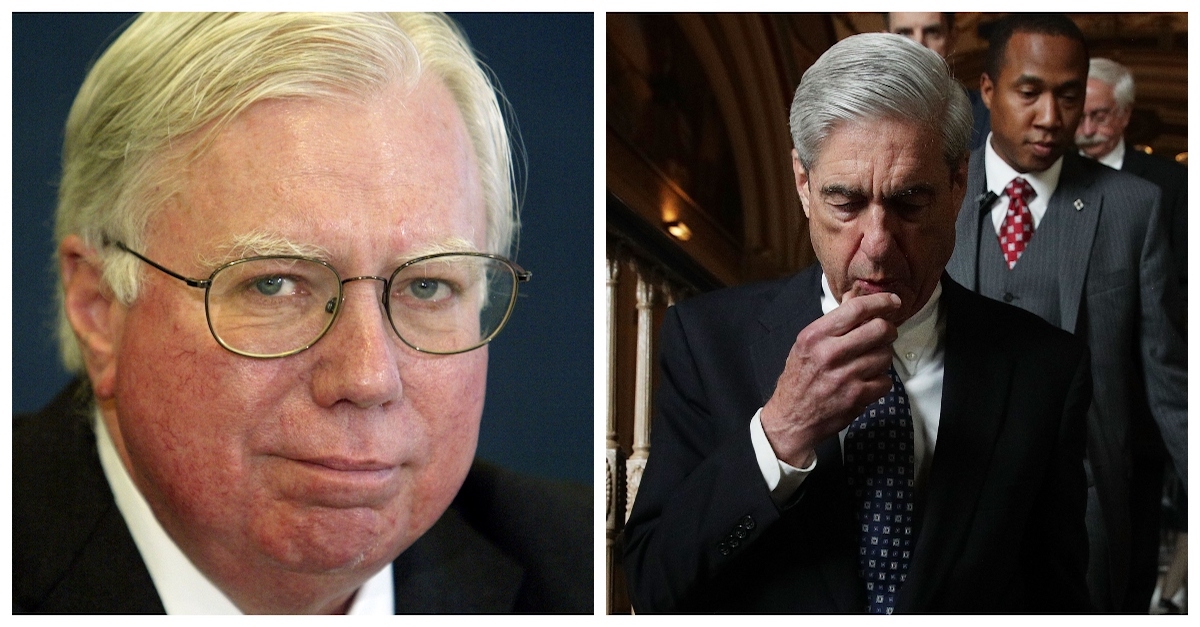 Right-wing conspiracy theorist Jerome Corsi reportedly told NBC News that he was informed by special counsel Robert Mueller last week he will be indicted for perjury.
BREAKING: Roger Stone pal Jerome Corsi tells my colleague @annaschecter that Mueller's investigators informed Corsi about a week ago he will be indicted for perjury. "When they have your emails and phone records…they're very good at the perjury trap," he says.

— Ken Dilanian (@KenDilanianNBC) November 12, 2018
"When they have your emails and phone records…they're very good at the perjury trap," Corsi said.
And by "perjury trap," we mean "proving beyond a reasonable doubt that you knowingly made a materially false statement to federal investigators." https://t.co/4qcEqJRku1

— Steve Vladeck (@steve_vladeck) November 12, 2018
Corsi told ABC News that he didn't know "what they're going to charge me with," saying, "I think my only crime was that I support Donald Trump. That's my crime, and now I'm going to go to prison for the rest of my life for cooperating with them."
As Mediaite noted, Corsi did a live stream on YouTube after this news broke and said, "I fully anticipate that in the next few days I will be indicted by Mueller for some form or other of giving false information to the special counsel or to one of the other grand jury."
"But I'm going to be criminally charged," he added. "I guess I'll have to go prison for the rest of my life because I dared to oppose the deep state."
Corsi has also reportedly said that he was asked "extensively" about a trip he took to Italy two years ago.
Corsi says he was questioned extensively about a trip he took to Italy with his wife 2 years ago…he says it was for their anniversary. https://t.co/tPkmQ07IxK

— Natasha Bertrand (@NatashaBertrand) November 12, 2018
Just for a timeline here…

Michael Cohen, who was in DC with lawyers today, traveled to Italy from July 9 to 17 in 2016.

This is a month after the Trump Tower meeting.

The Republican National Convention started July 18th.

July 22nd, the DNC emails were dropped by Wikileaks. https://t.co/1Q9qMXZLTh

— Ben Collins (@oneunderscore__) November 12, 2018
It's not clear at this time which statements Corsi is on the hook for making.
The New York Times' Maggie Haberman reported in September that Roger Stone-connected "birtherism conspiracy theorist" and author Corsi was being subpoenaed. Corsi is also connected to InfoWars' Alex Jones. He was the bureau chief for InfoWars.
Corsi has written books like "Where's the Birth Certificate?" "Partners in Crime: The Clintons' Scheme to Monetize the White House for Personal Profit," "Who Really Killed Kennedy?: 50 Years Later: Stunning New Revelations About the JFK Assassination," and "Killing the Deep State: The Fight to Save President Trump."
Corsi's lawyer David Gray said in the past that he believed Mueller would ask about Corsi's conversations with Stone, particularly whether Corsi et al. had any advanced knowledge of the 2016 hack of DNC emails that were dumped on WikiLeaks before the 2016 election.
Stone has called Mueller an agent of the "deep state" who is out to get him. Corsi's "perjury trap" remark echoes that thinking.
Corsi has denied having any direct advance knowledge of the email release from WikiLeaks, and claimed he just figured out that emails such as those belonging to Clinton campaign chairman John Podesta were going to get out.
Jerome Corsi: "To the best of my recollection, I never met Julian Assange. Best to my recollection, I did not have anyone who connected to me to Julian Assange. Best to my recollection, what I knew in advance about what Julian Assange was gonna do… I figured out." Via @emsteck

— Manu Raju (@mkraju) November 12, 2018
Stone, meanwhile, has also been the subject of speculation that he is one of Mueller's main targets. The former Trump associate officially parted ways with the campaign early on, but there had been reports that he claimed to have been in touch with WikiLeaks founder Julian Assange. Stone denied that he actually met with Assange.
Stone has also been gearing up for an all-out legal war with Mueller.
Ronn Blitzer contributed to this report.
[Images via Matthew Cavanaugh/Getty Images, Alex Wong/Getty Images]
Have a tip we should know? [email protected]