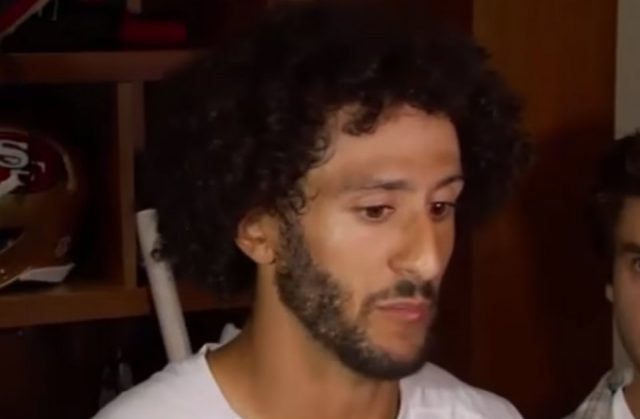 Colin Kaepernick's attorney fired back after President Donald Trump tweeted criticism of the NFL's decision to allow players to kneel during the national anthem. Wednesday morning, Trump said on Twitter, "The NFL has decided that it will not force players to stand for the playing of our National Anthem. Total disrespect for our great country!" Later in the day, he said, "@NFL: Too much talk, not enough action. Stand for the National Anthem."
In response, high-profile celebrity lawyer Mark Geragos' firm released a statement knocking Trump's remarks, citing a former president as a comparison to the current POTUS:
As John F. Kennedy aptly noted almost 60 years ago, a president should be a moral leader in the crusade for human rights, and "[h]e must exert the great moral and educational force of his office … to support the right of every American to stand up for his rights, even if on occasion he must sit down for them."
Kaepernick was the first NFL player to kneel during the national anthem, meant as a protest against racial injustice. The act drew the ire of those who feel it is disrespectful of the flag and those in the military who defend the country. Kaepernick, who became a free agent after last season, remains unemployed, as no team has signed him to a new contract. In the meantime, other players have taken up his cause, kneeling while the anthem plays before games.
The league recently announced that they will not require players to stand.
Have a tip we should know? [email protected]