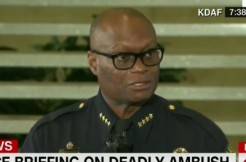 Dallas Police Department Chief David Brown told reporters on Friday that one attacker was angry about recent shootings of black people by police.
"He said he was upset about the recent police shootings," Brown said at a press conference, according to The Washington Post. "The suspect said he was upset at white people. The suspect stated he wanted to kill white people, especially white officers."
The suspect also reportedly said there were explosives placed in downtown Dallas, but no bombs have been discovered as of Friday morning.
It's likely the suspect was referring to two high-profile killings of black men by cops: Alton Sterling on Tuesday, and Philando Castile on Wednesday. Footage of their deaths went viral on social media.
12 Dallas police officers were shot, 5 of them killed, at a Black Lives Matter rally Thursday night in Dallas, Texas. This suspect was killed after a three-hour standoff with a SWAT team; he died when authorities set off an explosive device. Three other suspects are in custody, Brown said. Two men, one woman.
"We still don't have a complete comfort level that we have all the suspects," Brown said.
The suspects' names have not been released, and this investigation is ongoing.
–
Follow Alberto Luperon on Twitter (@Alberto Luperon)
Have a tip we should know? [email protected]