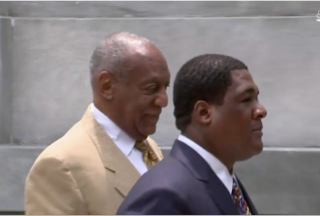 Thursday may not have been a day of shocking rulings or dramatic testimony, but it was a day during which our legal system shined.   The lawyers delivered excellent work, making eloquent and sensible arguments. Judge Steven O'Neill listened attentively and asked insightful questions. All the players comported themselves with dignity befitting the stately courtroom, and the respect in the room was palpable.
In arguing its habeas petition, Cosby's team switched to the role of offense as it went head-to-head with the Montgomery County District Attorney's Office. The core of Cosby's petition was that he was denied Constitutionally-guaranteed fairness at the preliminary hearing in May, because the DA relied only on hearsay evidence. And if that argument failed, there was also a backup argument included in Cosby's petition: that even with the hearsay, the prosecution should have lost the preliminary hearing, because the evidence it submitted didn't reach the required threshold of proving a prima facie case for the charges asserted.
Christopher Tayback delivered an extensive oral argument that was good – although not quite good enough.   Tayback (a Los Angeles-based attorney and the son of actor Vic Tayback from the 70s sitcom Alice), talked for an hour about how the case law (in particular, Commonwealth v. Ricker, which is pending in the PA Supreme Court, Commonwealth ex rel. Buchanan v. Verbonitz, and Commonwealth v. Dolan commonwealth v. dolan CP-09-CR-00742-2016) interpreted Pennsylvania Rule of Criminal Procedure 542(e) – the rule that allows hearsay to be admitted during preliminary hearings.
"We shouldn't take what some piece of paper said without anyone validating it," argued Tayback. "It's exactly the kind of hearsay on a critical element that gave pause to the Dolan court, and exactly what is giving pause to the court in Ricker." I was almost persuaded by Tayback's characterization of the case law. But something was missing, and I think Judge O'Neill thought so too. I wanted Tayback to use his resonant voice and confident oratory skills to talk about fairness, not about case law. I wanted him to warn that preliminary hearings are wildly important, and that defendants across the state would be unfairly prejudiced by an interpretation of 542(e) that allowed nothing but flimsy hearsay to force them into the defendant's seat. I wanted him to say something – anything—about the essence of due process.
By contrast to Tayback's speech, which was gilded with a little Hollywood sparkle, Assistant District Attorney Bob Falin's rebuttal argument was simultaneously less compelling and more persuasive. Falin hinged his argument on protection of victims: a victim of a violent crime shouldn't be forced to endure aggressive cross-examination in front of a crowd of strangers at a preliminary hearing and then again at trial. Knowing that testifying truly is quite traumatic for many crime victims, as well as the more strategic truth that witness testimony often suffers from diminishing returns, I heard Falin's arguments loud and clear. Judge O'Neill, who was both an Assistant District Attorney for five years, and a criminal defense lawyer for 18, did too.
Judge O'Neill's ruling was short and to the point, remarking that the drafters of Rule 542(e) could have prohibited an all-hearsay preliminary hearing, but had declined to do so. In deciding that the prosecution had, in fact, presented evidence that was sufficient in substance and proper in form at the preliminary hearing, Judge O'Neill destroyed any hopes Bill Cosby had for a pre-arraignment dismissal of charges.
During today's proceedings, Bill Cosby (dressed in a taupe suit that reminded me a little too much of O.J. Simpson's when that verdict was announced) was attentive, but lacked much emotion. When the judge delivered his ruling, neither Cosby nor his legal team reacted, and left the courtroom quickly. As Cosby made his way through throngs of photographers, reporters, and onlookers, he was expressionless, not even answering questions about his health or responding to words of support from passersby.
Cosby will be arraigned on July 20th, and will formally enter a plea of guilty or not guilty at that time.  All signs are pointing to Cosby's having to stand trial for the sexual assault of Andrea Constand.  There's always a possibility that the Pennsylvania Supreme Court will rule on the Ricker case (or on Cosby's related appeal of the preliminary hearing) in a way that will effect a dismissal for Cosby, but I'm not counting on it.
Have a tip we should know? [email protected]
Elura Nanos - Columnist & Trial Analyst, Law & Crime; CEO Lawyer Up