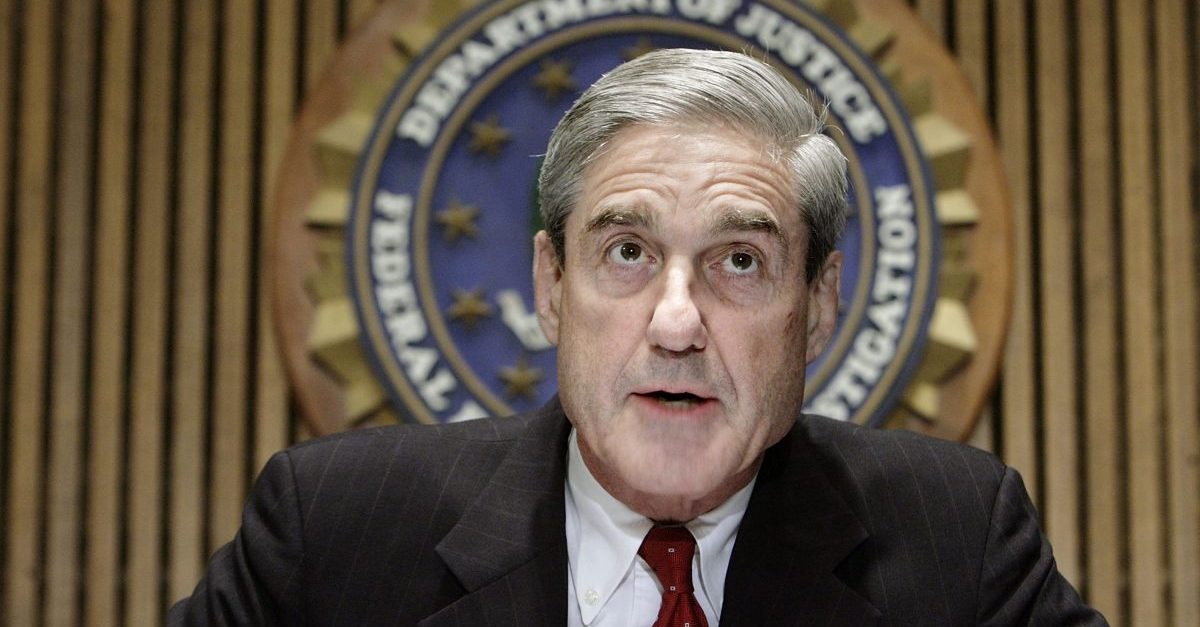 Stormy Daniels' attorney Michael Avenatti grabbed the news cycle by the horns on Tuesday with the release of an "executive summary" (the source of which remains unknown). He alleged that the shell company Essential Consultants, LLC  is "exclusively owned and controlled by Mr. [Michael] Cohen," was used to pay off Daniels and received payments from multiple companies.
Well, now we know that at least one of these companies has been on Special Counsel Robert Mueller's radar since at least November 2017. How do we know? Novartis said so.
Here's the line of the Novartis statement pertaining to Mueller cooperation:
"Novartis was connected in November 2017 by lawyers from the Social Counsel's office and provided all the information requested," it said. "Novartis considers this matter closed to itself and is not aware of any outstanding questions regarding the agreement."
Novartis said that the agreement with Essential Consultants, LLC, was a one-year deal inked in February 2017, just a few months after Trump was elected. It also said it expired in February 2018. The company said the agreement "focused on US healthcare policy matters" and that the "terms were consistent with the market."
Law&Crime reached out to Novartis for comment.
Other companies named in the Avenatti report, for example, AT&T and Columbus Nova, have not contested that payments were made to Essential Consultants, LLC.
Law&Crime reached out to AT&T for comment and it replied, that it hired Essential Consultants to "provide insights into understanding" the Trump Administration.
"Essential Consultants was one of several firms we engaged in early 2017 to provide insights into understanding the new administration," AT&T said. "They did no legal or lobbying work for us, and the contract ended in December 2017."
Law&Crime also asked whether Mueller contacted them as he did Novartis and whether AT&T cooperated with his investigation. AT&T said, "Per your question on Mueller, we are not providing comment."
AT&T confirmed a hire of Cohen's firm occurred in early 2017 to "provide insights" into understanding the Trump Administration. AT&T, hours later, would say Mueller contacted them in Nov. 2017.
"When we were contacted by the Special Counsel's office regarding Michael Cohen, we cooperated fully, providing all information requested in November and December of 2017," they said in a statement. "A few weeks later, our consulting contract with Cohen expired at the end of the year. Since then, we have received no additional questions from the Special Counsel's office and consider the matter closed."
Columbus Nova was linked to Putin-connected Russian billionaire Viktor Vekselberg by way of his cousin, Andrew Intrater, and while Columbus Nova confirmed a Cohen hire it denied Vekselberg's involvement. In a statement, Columbus Nova's attorney Richard Owens of Latham & Watkins said:
Columbus Nova is a management company solely owned and controlled by Americans. After the inauguration, the firm hired Michael Cohen as a business consultant regarding potential sources of capital and potential investments in real estate and other ventures. Reports today that Viktor Vekselberg used Columbus Nova as a conduit for payments to Michael Cohen are false. The claim that Viktor Vekselberg was involved or provided any funding for Columbus Nova's engagement of Michael Coehn is patently untrue. Neither Viktor Vekselberg nor anyone else other than Columbus Nova's owners were involved in the decision to hire Cohen or provided funding for his engagement.
Law&Crime contacted Columbus Nova and asked the same questions about Mueller. We were redirected to the statement currently displayed prominently on its website.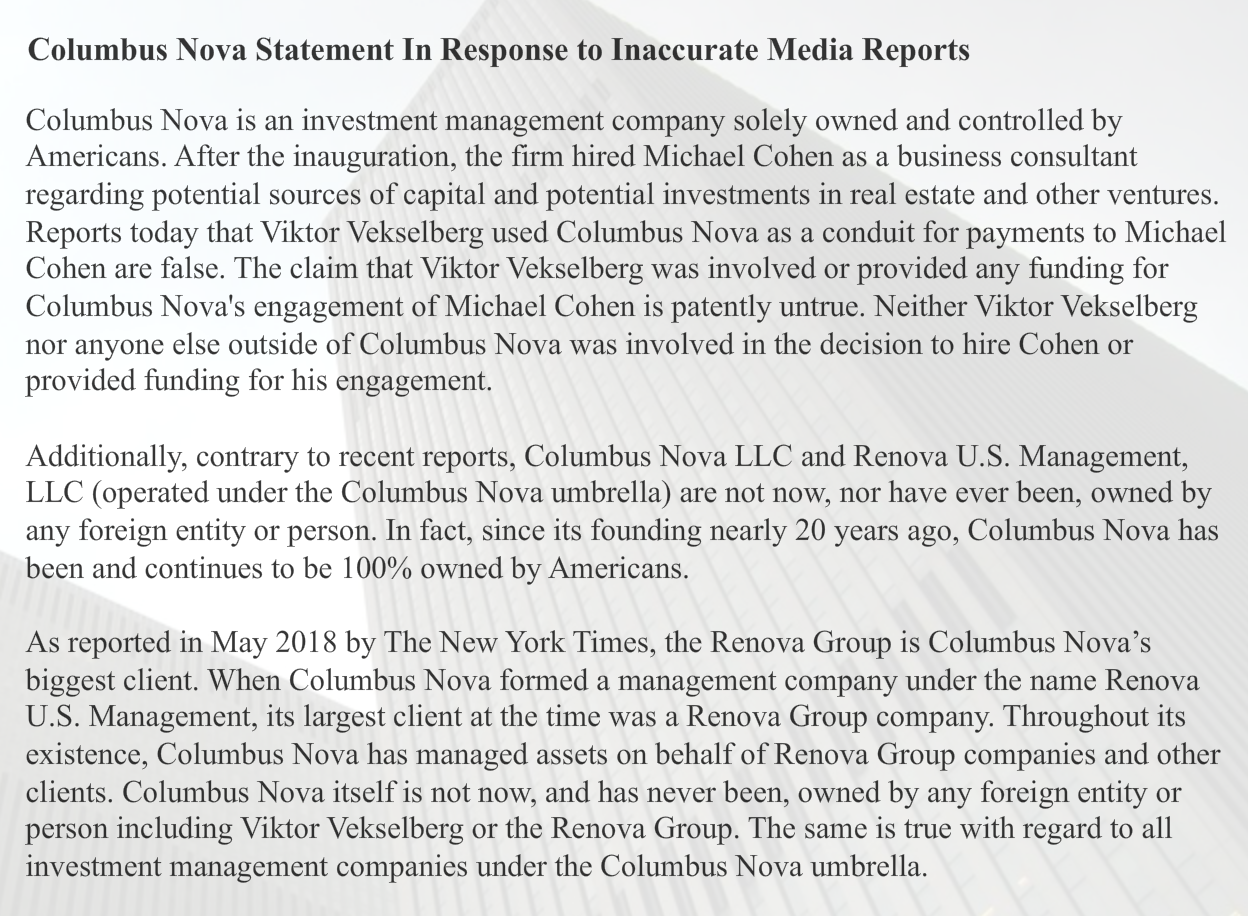 According to Avenatti, Essential Consultants also received payments from Korea Aerospace Industries and former RNC Deputy Finance Chair Elliott Broidy, had involvement with California attorney Keith Davidson's firm, Real Estate Attorneys' Group APLC (REAG), and detailed purported financial transactions between Cohen and accounts in Singapore, Hungary, Malaysia, Canada, Taiwan, Kenya, and Israel.
According to Reuters, Korea Aerospace Industries has said that it paid $150,000 to Cohen's firm for consulting advice on accounting matters.
Avenatti took to Twitter on Wednesday morning and had this to say about Cohen: "Who knew Mr. Cohen was such a brilliant renaissance man?"
Aaron Keller contributed to this report.
Editor's note: the story was updated after publication with responses to requests for comment, Korea Aerospace Industries' statement, and AT&T's Mueller cooperation statement.
[Image via Chip Somodevilla/Getty Images]
Have a tip we should know? [email protected]